Nearly 30 Dead in Basra Bombing, 62 Wounded
Political violence in the Iraqi Civil War left 44 dead on Saturday in an arc that stretched from the far south to the northeast of the country.
In Basra, guerrillas used a car bomb to kill 28 persons (according to late reports) and wound 62. The bomber set it off at a market in the south of the city, late afternoon on Saturday. Basra security has deteriorated dramatically this year. It is unclear who the perpetrator is. Some Arabic sources are speculating that it is an answer to Zarqawi's call to redouble the fight against Shiites. Al-Hayat speculates that it might have been a response to Prime Minister Nuri al-Maliki's call to curb the oil-smuggling gangs in the city.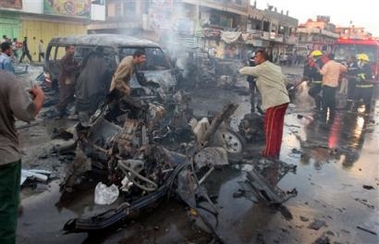 Courtesy KarbalaNews.net.
In the northeast, guerrillas launched a sophisticated attack on a police checkpoint near Baqubah. They threw grenades and used RPGs against police, killing 7 of them and wounding 10 other persons.
Also near Baqubah, heads of 8 persons were sent to the police, including 7 cousins and a Sunni mosque preacher, in empty banana cartons (-al-Hayat]. The preacher, according to a note found with the head, stood accused of having arranged for the assassination of 4 Shiite physicians in the area.
In Baghdad, a Russian diplomat and one other person were killed by guerrillas, who kidnapped 3 other Russian embassy personnel.
A spokesman for the Iraqi prime minister's office on Saturday rejected a US military appraisal that troops at Ishaqi in mid-March did nothing wrong. They attacked a safe house from which they maintain they took fire, and appear to have shot dead 11 civilians, including 4 children and 5 women. They then demolished the house and reported only 4 civilian deaths in such a way as to imply that they had died in the collapse of the building. A videotape was leaked to the BBC last week that clearly showed the bodies had died of gunshot wounds. The Iraqi government says it will do its own probe of Ishaqi.
Salafi Jihadi militiamen wearing black dominate some Sunni Arab neighborhoods in once-modern Western Baghdad, and they terrorize unveiled women.
A "British Brigade" of 150 young radical Muslim Britons has gone off to Iraq to fight for Abu Musab al-Zarqawi and his Salafi Jihadi movement. The illegal Iraq War and Anglo-American occupation of Iraq has radicalized many British Muslims, including the cell that blew up the London subway on 7/7 last year, and which was probably run by Ayman al-Zawahiri. Of the 150, those who survive will learn deadly skills that they can apply to future terror operations in the West.
Meanwhile, 23 Yemenis went on trial Saturday for forming an armed unit and planning to go fight the Americans in Iraq. Yes, you can hear the purling waters of Bush's Arab Spring just everywhere.
The networks in their evening news segments have given less and less attention to Iraq. It is hard and expensive to cover, reporters risk their lives, and they often get pressure in the aftermath for not having been "balanced".