The USG Open Source Center summarizes controversies over the prospect of the incorporation of Kirkuk into Iraqi Kurdistan in October and so far in November. The Kurdistan Regional Government (KRG) comprises 3 provinces of the old Iraq, and wishes to incorporate 3 more. One of the provinces it wants to swallow whole is Kirkuk, an oil producing area. Thousands of Kurds have flooded into that province, and Arabs have been 'encouraged' to leave, so that if a referendum were held, the Kurds would certainly win it. The report covers a wide range of reaction and comment, including Iranian opposition to the holding of a referendum on Kirkuk's annexation by the KRG, and opposition by the Sadr Movement. It also considers threats against the Turkmen minority, which generally objects to being forced to join the KRG.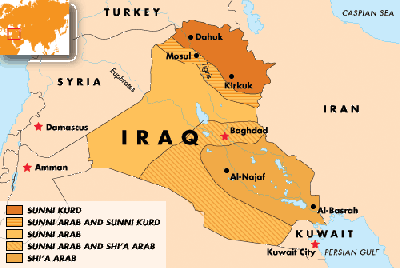 'OSC Summary: Iraq — Kirkuk Roundup for October, November
Iraq — OSC Summary
Saturday, November 10, 2007
This summary identifies major statements and activities concerning Kirkuk for October and November 2007. Iran called for a delay in the Iraqi Constitution's Article 140. Kurdish officials reacted quickly, offering terse rejections of the proposal. Meanwhile, the Kurds interpreted a Turkish incursion into Iraq chiefly as a ruse to destabilize Iraqi Kurdistan. The Iraqi Turkoman Front (ITF) reported that Turkoman have been threatened by an unknown Kurdish group. Iran Calls for Delay in Kirkuk Referendum
Iran went on record as opposing implementation of the Iraqi Constitution's Article 140, which calls for "de-Arabizing" the Kirkuk/Ta'mim province and holding a referendum by year's end to decide on its inclusion into the Kurdistan Regional Government (KRG).
On Iran's News Network Television, Iran's Foreign Minister Manuchehr Mottaki said: "There are differences of opinion about (constitutional issues) such as . . . the issue of Kirkuk or the internal borders of provinces. We suggested a moratorium on these issues in order that decisions be made about them" (IRINN, 3 November).
Kurdish leaders offered terse rejections of the Iranian minister's proposal.
On 7 November, the Kurdistan Regional president's office (Mas'ud Barzani's outlet for official statements) stated: "These (Iranian) proposals contradict the Iraqi constitution; therefore we reject them. Such proposals are considered as interference . . . and further complicate the situation" ( www. PUKmedia. com, 8 November).
The head of Kirkuk's Provincial Council, Rizgar Ali, called for a strong Iraqi response to Tehran and stated: "This proposal is clear and direct interference by Tehran in Iraqi internal affairs" (The Kurdish Globe, 6 November).
Patriotic Union of Kurdistan media reported that a Sadr Trend adviser expressed his organization's opposition to incorporating Kirkuk province into the KRG.
Sadr adviser Rasim al-Marwani reportedly told Elaph website that they interpreted Kurdish action on the issue as "a kind of local imperialism and we never support linking Kirkuk to the Kurdistan Region" www.PUKmedia. com, 9 November).
Turkish Incursion Meant to Destabilize Kirkuk
A common position among Iraqi Kurdish media and officials was that a potential Turkish incursion into Iraqi Kurdistan aimed, not at destroying Kurdistan Workers Party (PKK) insurgents, but rather at destabilizing Kurdish achievements in Iraq and slowing the referendum on Kirkuk.
Barzani's representative in Kirkuk and head of the Kurdistan Toilers Party, Qadir Aziz, stated: "This issue has a very negative impact on Article 140 . . . That is one of the aims of Turkey, and the postponement of the implementation of Article 140 might be one of the Turkish demands during negotiations" (Aso, 25 October).
Reported Threats Against Turkoman
The Iraqi Turkoman Front (ITF) reported that Turkoman have been threatened by an unknown Kurdish group called "The Emirate Group of the Occupied Kirkuk Branch." Turkoman protesting, www.kerkuk.net, 6 November.
An open letter, which called for Kurds to ready themselves to join Kurdish militia cells in case of a Turkish invasion, threatened the ITF leadership, stating that Kurds would "hold Turkoman responsible" in the case of a Turkish invasion, and that this was "the last warning" ( www. kerkuk. net, 6 November).
Suicide Attack in Kirkuk
On 7 November, a suicide bomber in a car attacked one of the offices of the Kurdistan Democratic Party in Kirkuk, killing "several people" ( www. PUKmedia. com). '