Well, I already used "crisis deepens in Pakistan," so what should I say about the news that the Pakistan People's Party government has had hundreds of attorneys and Muslim League (N) party activists arrested , invoking Section 144 of the Criminal Procedure Code throughout Punjab Province and in its capital, Lahore. This provision, which dates to British colonial methods of controlling the population, allows the government to forbid "all kinds of gatherings of five or more persons, processions, rallies and demonstrations at public places, distribution of hand bills and pamphlets, wall chalking, use of loud speakers and display of arms and ammunition . . ." The arms and ammunition thing aside, it is obviously a Draconian suspension of basic rights of speech and assembly. The section is clearly being abused by the Zardari government insofar as it is not public turmoil that is being forestalled but rather a simple march and demonstration– the Long March called for by the PML-N leadership on Islamabad to demand the reinstatement of deposed chief justice Iftihar Chaudhury, who had been dismissed from the Supreme Court by former military dictator Pervez Musharraf. (This Long March repeats similar past demonstrations, especially the Long March of last June).
On the other hand, Pakistan Muslim League (N) leader Nawaz Sharif, who spent nearly a decade in exile in Saudi Arabia, seems to me to have gone round the bend. He has been threatening a rebellion and a revolution against the elected government, which which he had initially been allied. Now he is more or less accusing his PPP rivals of planning to whack him.
Sharif's incendiary rhetoric about a revolution and raising the standard of rebellion appears to have provoked the government to invoke section 144. If he had instead pledged a non-violent protest, perhaps it could have gone forward.
The ability to lose an election gracefully and to act as a loyal opposition is a key prerequisite for a party to participate in parliamentary democracy. The Muslim League is signally failing in that regard. Nawaz Sharif has long had dictatorial tendencies, and when he was last prime minister in the mid- to late-1990s, he started closing down newspapers, jailing journalists and editors, and stacking the decks against other parties.
As for the issue of the deposed supreme court, I don't understand why parliament could not simply pass legislation for a one-time measure to retire the justices appointed by the dictatorship and to appoint new ones, who would have legitimacy since they would be appointees of a popularly elected government. Iftikhar Chaudhury was brave to stand up to Musharraf in 2007, but he did validate Musharraf's coup, and Musharraf made him chief justice, in 2005. So you could argue that his original appointment was the fruit of a poisoned tree. It is odd that Sharif is so insistent on his return to the bench, since Chaudhury helped prolong Sharif's exile and justified the 1999 coup against him.
Anyway, no one seems in a mood to compromise.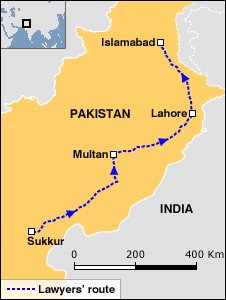 Route of June 2008 Long March for Deposed Judges, courtesy BBC
This lawyers' procession is what the PPP is trying to prevent
' Lawyers and political parties across Pakistan are commencing long march form today (Thursday) for the independence of judiciary and reinstatement of deposed judges.

Lawyers had announced to stage sit-in protest on Shara-e-Dastoor Islamabad from March 16 until the restoration of judiciary on November 2 position.

According to lawyers, the processions of long march will get under way at 10am on Thursday which will be headed by President High Court Bar Association (PHCBA) Rasheed A. Rizvi from Sindh High Court Karachi and President Supreme Court Bar Association (PSCBA) Ali Ahmed Kurd from Balochistan High Court Quetta.

The lawyers' procession will be joined by political leaders and activists at the tomb of Quaid-e-Azam Muhammad Ali Jinnah in Karachi and it will arrive Sukkur through Hyderabad while lawyers' procession appearing from Quetta will arrive Sukkur in the evening on March 12.'
If the elected, civilian leaders of Pakistan cannot find a way to compromise and avoid the massive confrontation that appears imminent, then they are unwittingly inviting the military to make yet another coup. For Pakistan to fall back into dictatorship, either through a military coup or through a presidential coup, would be a huge tragedy for stability in South Asia. (Contrary to what people keep saying, none of Pakistan's military governments actually brought social or political stability).
End/ (Not Continued)