More news about my new book, Engaging the Muslim World, which is in bookstores starting today. (Barnes and Noble in particular has it on the front table as you enter the store).
Novelist and historian Ron Jacobs reviews Engaging the Muslim World positively.
Salon.com is running an excerpt from my book, on Hizbullah, Iran and Lebanon. (While you are over there, check out Gary Kamiya's important essay, "Obama's Middle East moment of truth").
I started a discussion of the new book over at TPM Cafe Book Club, and Lila Shapiro kindly made some introductory points. And, yes, it should be billion. Contributors will include Patricia DeGennaro, Senior Fellow at the World Policy Institute; Daniel Drezner, professor of International Politics at the Fletcher School at Tufts University; Saskia Sassen, professor of Sociology at Columbia University; and MJ Rosenberg.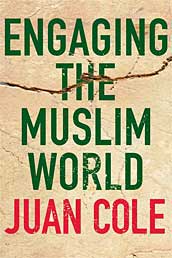 Engaging the Muslim World
End/ (Not Continued)