The review by Daniel Levy of the New America Foundation of my new book, Engaging the Muslim World in The American Prospect is now available in full online (click here).
Here is one excerpt from Levy's review:
' . .. Engaging the Muslim World is rich in policy prescriptions across a diverse range of subjects. He is at his best when demolishing myths and dealing with complex issues. Can America make energy policy independent of Middle East oil considerations? For the next generation, Cole argues, it cannot. He has timely and pertinent things to say about the role of regional diplomacy in stabilizing Iraq, what to do about Kirkuk, engaging Islamists in Pakistan, and addressing the Iranian nuclear program. Most important of all is his call for an honest, ongoing conversation of equals between America and the Muslim world. '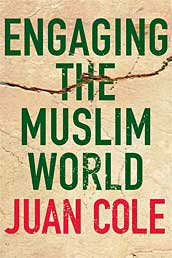 Engaging the Muslim World
See also this segment on 30 years of the Iranian Revolution at KUAR in Little Rock, in which I'm interviewed.
And, thanks for the shout out from film maker Kamran Pasha at HuffPo on the myth of Muslim silence on terrorism.
End/ (Not Continued)