President Barack Obama arrived in Saudi Arabia on Wednesday for consultations with Saudi King Abdullah.
Reuters notes: "Saudi Arabia is among the United States' top 15 trading partners, with two-way trade worth $67.3 billion last year. The kingdom, whose currency is pegged to the dollar, has expanded trade with Asia in recent years but still depends on high-tech U.S. goods."
Obama stressed more the place of Saudi Arabia as a holy land to Muslims, since the Prophet Muhammad was born in Mecca around 570 CE and migrated to Medina in 622 CE. Obama explained, "I thought it was very important to come to the place where Islam began and to seek his majesty's counsel." The Saudis have been advising the US government on Islamic affairs for decades, and both George HW Bush and George W. Bush were close to the Saudi royal family. What Obama is doing is not new. What is new is his willingness to speak about the relationship openly. Obama will get points for visiting the Muslim holy land for consultations ahead of his speech, as is clear from the positive coverage of the pan-Arab daily, Al-Sharq al-Awsat [The Middle East.]
I'm traveling and didn't have time today to analyze the Usamah Bin Laden tape that was issued on Tuesday to rain on Obama's parade. I agree with those observers who say that Bin Laden's screed is a sign of weakness and of anxiety. Bin Laden is afraid that Obama will become an opinion leader for the Middle East. But Bin Laden's new issue, of the Taliban in Afghanistan and Pakistan and the impact on them of the US military, is not actually very salient in the Arab world, according to opinion polls. I don't know if Bin Laden is actually dead or not, but he is increasingly yesterday's news in the region. Obama does have a chance to be much more widely admired and emulated there.
President Barack Obama telegraphed some of his thinking about the Muslim world and his current trip to the Middle East in a BBC interiew.
Dan Gilgoff of US News and World Report gets the scoop. It turns out that the Obama administration has been consulting widely with US religious leaders, including Muslims, in shaping the speech he is giving today in Cairo.
White House spokesmen Robert Gibbs and Denis McDonough previewed the speech here.
Gibbs said:
' Now, the foundation of that engagement as he sees it is the ability to engage each other on the basis of mutual respect and mutual interests. And in that light, he feels it's important to speak very openly and candidly about the very full range of issues that have caused some tensions between the United States and the Muslim world, and then also present a great deal of opportunity for partnership in the future.

To begin with, I think he'll take on directly some of the misperceptions that may have emerged as well as some of the differences that have emerged. I think he'll acknowledge the need for us to get to know each other better. As he has said, he'll, for instance, discuss the relationship between Islam and America within America, particularly in light of the contributions of American Muslims.

But then what he will do is really go through in a very thorough way a broad range of issues that have been at the forefront of the agenda: violent extremism and the threat that it poses, and what America has done in response; the ongoing conflict in Afghanistan and Pakistan and what we're doing there, and what we hope to do in the future in partnership with Afghans and Pakistanis. He'll discuss Iraq, both what we have done there and what we are doing in the future, again, to transition to Iraqi responsibility for Iraq. He'll discuss of course the Israeli-Palestinian issue and the broader Arab-Israeli issue, and acknowledging the fact that this has been a very important source of tension and passion for people of all faiths within this region and around the world, and he will discuss in some detail his view of the conflict and what needs to be done to resolve it. He will discuss both what that means in terms of Israelis and Palestinians and the United States and the Arab states, as well.'
Ahem: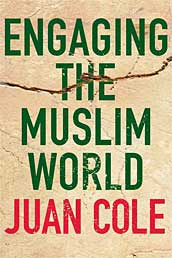 Engaging the Muslim World, my new book.
The overlap between the subjects Gibbs and McDonough mention as Obama's concerns, and what I treat in the book is quite substantial.
Aljazeera English reports on the mood in Cairo as Egyptians await Obama's address:
End/ (Not Continued)