The corporate media are in the tank for a Republican comeback in 2010, and the GOP may in fact pick up some seats in the Senate and the House, though if employment ticks up by the fall, not as many as some are implying. The corporate media made a big deal about two Democrats who are stepping down but not about 6 Republicans who are. But the long-term trends look good for the Democratic Party.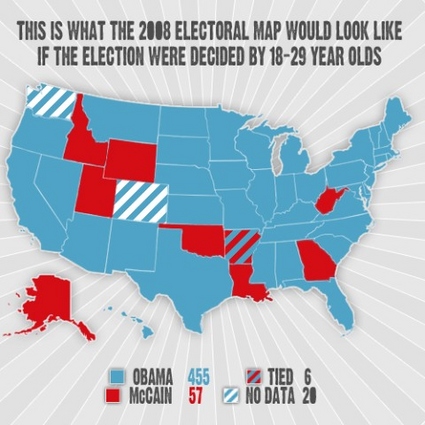 h/t Mindvirus at Reddit.com
Political views are formed in young adulthood and for most people remain stable in later life. Republican wedge issues such as gay-bashing, cutting government services and help to people, and the promise of more wars are increasingly unattractive to the younger generation and that is unlikely to change soon. We could be on the verge of another FDR moment, of a long period of Democratic dominance.
John Judis and Ruy Taxeira were prescient.
End/ (Not Continued)