Remember how I said a little after midnight on Sunday that the city of Sujawal, population 250,000, was threatened by advancing flood waters from broken levees in Sindh?

Well, just a few hours later, Sujawal is now under water. That is a city roughly the same size as Fort Wayne, Indiana; Greensboro, N.C., St. Petersburg, Florida; Orlando, Florida; or Madison, Wisconsin.
And the waters are raging toward Thatta, the major city in the area and a center of administration from which relief efforts would ordinarily be directed. The Pakistani military is still trying to divert the waters from Thatta.
The number of people needing immediate help is now 8 million. One of my readers asked, where is the Telethon with rock stars on American t.v. for this world-historical disaster? Where indeed?
If you don't want to wait for the telethon, Oxfam America is taking donations for relief work in Pakistan.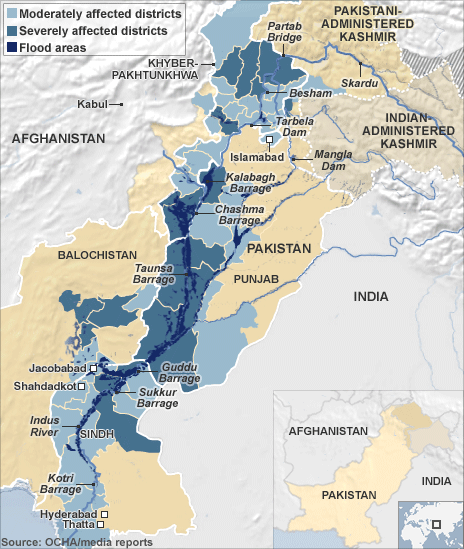 Courtesy BBC
Sanjay Gupta reports from Sindh Province in Pakistan as the flood waters advance on towns and cities and people flee on foot
Reza Sayah's amazing report on the daredevil aid rafters of Swat, who are braving torrents on tied-together used truck tires to get UN food and other aid to hundreds of thousands stranded on the wrong side of the river when the bridges were washed out. This devastation comes on top of the 2009 army campaign in Swat against the Pakistani Taliban, which had displaced 2 million people who had only managed to resettle when the floods hit.
Aljazeera English on the 8000 schools that have been damaged by the floods, and a further 5000 that can't function as schools because refugees are being housed in them.