Palestinians in the village of Beit Fajjar near Bethlehem say that Israeli settlers snuck into their mosque and set fire to it, as well as burning copies of the Quran. Photos of the scene show scorched rugs where the fires were put out, and charred pages of the Muslim holy book. Graffiti in Hebrew calling for 'revenge' and a scrawled star of David was left behind.
Click on the photo here to see a series of images of the effects of the arson.
The provocative attack (most reports make too little of the burned Qurans) came in the context of Israeli cabinet meetings deciding whether to extend a ban on the building of new Israeli colonies on the Palestinian West Bank. It may be that the Israeli squatters in the Palestinian territory were hoping to provoke their victims to violence, as a way of discrediting them and ensuring that right wing cabinet members do not waver in opposition to talks with Palestine Authority president Mahmoud Abbas. (It would be asked how an Israeli government could talk to 'terrorists,' which is what right wing Israelis call pretty much all Palestinians.)
The mosque arson and Quran-burning are typical of militant squatter tactics. In the past 18 months they have committed dozens of acts of arson against Palestinian property, including orchards and buildings. Although the Israeli military, which administers the Palestinian West Bank, says it is concerned about such actions, the Israeli perpetrators are almost never punished (the typical pattern in colonial settler regimes).
The way in which Occupation functions to constantly humiliate Palestinians in their own homeland and to deprive them of basic human and civil rights, is further demonstrated in the video that just surfaced of an Israeli army soldier mock belly dancing around a blindfolded and handcuffed Palestinian woman prisoner.
In a reminder of the banality of evil, humiliating prisoners is a war crime according to the Third Geneva Convention: Part I, Art. 2, "(c) outrages upon personal dignity, in particular humiliating and degrading treatment;"
But then that estate is characteristic of most Palestinians under Israeli military occupation.
Here is the fragmentation of the Palestinian West Bank as pursued by Israeli settlers: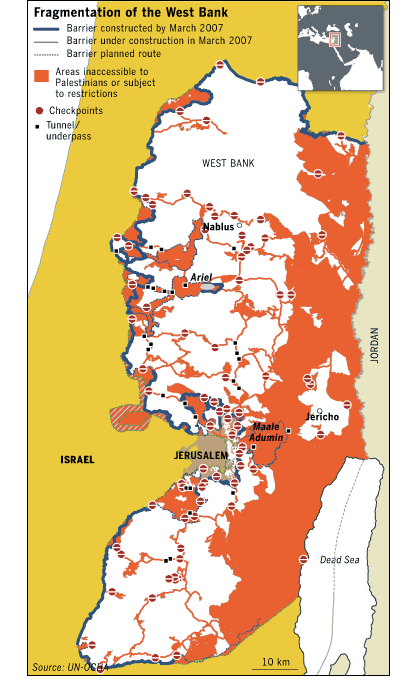 Courtesy InPursuitofJustice