On Saturday, a suicide bomber targeted a food aid center in Khar in Bajaur, one of Pakistan's northwestern Federally Administered Tribal Areas, killing 43 and wounding 100.
The development has implications for US troops in Afghanistan, since Bajaur abuts the strategic and troubled Kunar Province in Afghanistan and Taliban based there and in Mohmand raid over into Kunar, attacking US troops. Here is a report of a US/ Taliban military engagement in Kunar late last month.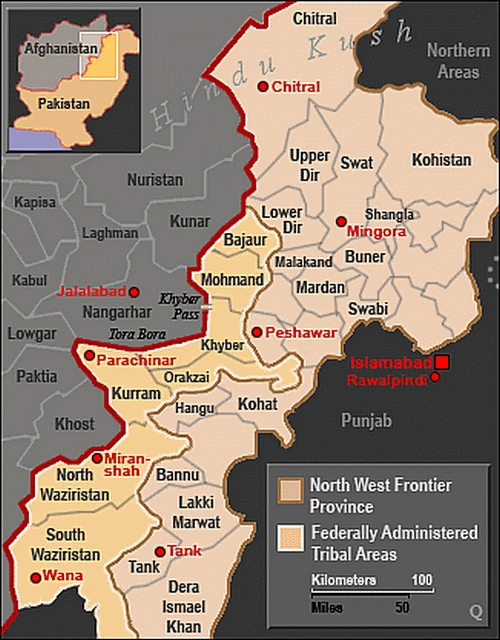 A suicide bomber wearing a burqa or female covering struck at the World Food Program's aid distribution center in Khar in Bajaur. There is a controversy over whether the bomber was a man or a woman. The target was members of the Salarzai tribe in Bajaur, who had formed a tribal levy to fight the Tehrik-i Taliban Pakistan (Pakistan Movement of Taliban), a group mainly based in South Waziristan among members of the Mahsoud tribe. The Mahsoud had raided north and had made converts and allies, allowing them to control parts of Bajaur such as Khar, from which they have been more recently been excluded by the Salarzai.
On Friday, a force of 150 militants in Mohmand Agency (just south of Bajaur), had targeted 5 checkpoints of the Frontier Corps, a Pakistani government paramilitary unit, killing 11 troops in the Safi and Baizai districts. Some 24 of the rebels were killed in a riposte by government sources. This attack also came in revenge for the Taliban having been expelled from those areas of Mohmand Agency.
On Saturday, Pakistani troops using helicopter gunships came back after the insurgents, allegedly killing 40 of them in Baizai and Lakro villages.
Reports earlier this month suggested that some 200-300 of the fighters expelled from the Swat Valley by the Pakistani military in summer, 2009, have regrouped in Mohmand under the leadership of Qari Abdul Jabbar of Timergara in Lower Dir, a young rebel commanders. Until recently, another small force of Taliban, under the leadership of Umar "Abdul Wali" Khalid, had been the chief threat to order in Mohmand.