The some 50,000 Christians in the West Bank continue to labor under Israeli military occupation this Christmas, though somewhat improved tourism and prosperity have lessened the penury in which they labored in 2005, at the end of the Palestinian uprising or Intifada. Christian Arabs in Israel proper continue to be second-class citizens.
In Nazareth (the 'capital of Arab Israel'), where Jesus is said to have lived much of his life, a dispute has broken out in the outer suburbs, under Israeli control as 'Nazareth Illit'. Local Christians asked to be able to put up a Christmas tree in the Arab quarter, but Mayor Shimon Gapso forbade it as provocative.
The Kairos Statement of last year by Christian theologians, many based in Palestine, [pdf] pointed to a more and more negative assessment of Israeli policy toward Palestinians by the Christian community. The increasing Israeli-Christian confrontation is echoed abroad. Christian support for Israel in Britain, e.g., has collapsed in the past year according to a recent poll, and only 1 in 20 British Christians would now describe themselves as 'Zionists.'
Karin Laub at AP begins her article about the sycamore tourist attraction at Jericho with a quote from the Bible:
' "And Jesus entered and passed through Jericho. And behold, there was a man named Zacchaeus, who was the chief among the tax collectors, and he was rich. And he sought to see Jesus … but could not because of the crowd, because he was of short stature. And he ran ahead, and climbed up into a sycamore tree to see him: for he was to pass that way. And when Jesus came to the place, he looked up, and saw him, and said unto him, Zacchaeus, make haste, and come down; for today I must abide at thy house." Luke 19:1-5 '
Israeli checkpoints and restrictions had made Jericho, a city in the Palestinian West Bank, an economic basket case in the first half of the past decade during the second Intifada or uprising against Israeli military rule. But in the past few years the improved security situation has led to the withdrawal of the checkpoint, and a million tourists visited last year. Among the things they come to see is the fabled sycamore of Zacchaeus, or something very like it. They probably would also gamble in the casino, but the Israelis won't let it operate because of opposition by ultra-Orthodox in Jerusalem to Israelis losing money in a Palestinian gaming house.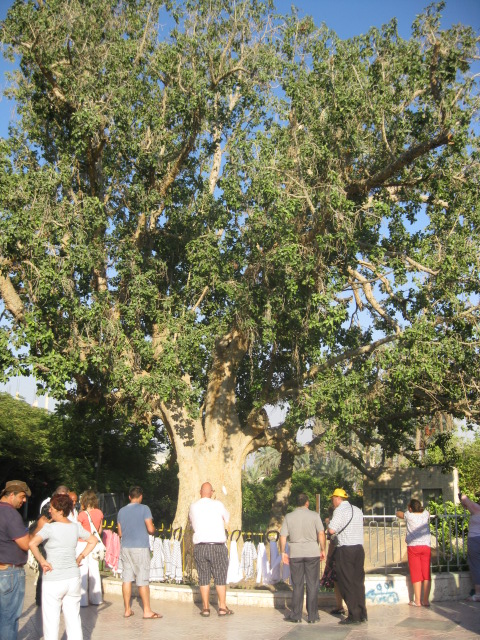 Courtesy PalestineRemembered.com
While Israeli Prime Minister Binyamin Netanyahu hopes to deflect moves toward a Palestinian state by trying to grow the West Bank economy and substitute increased well-being for national aspirations, the Palestinians in Jericho have a different plan– to make increased prosperity the basis of the Palestinian state, and to simply unilaterally announce it in July of 2011.
In Bethlehem, despite the virtual enclosure of the city in the Israeli security wall and the Israeli isolation of it from Jerusalem, some 2 million tourists will visit this year, and there are no hotel rooms this Christmas season in Jesus' birthplace. The increased, if inadequate, prosperity is hoped to stem the tide of emigration, including Christian emigration, which had been spurred by Israeli restrictions and the negative impact of the Wall. The unemployment rate has fallen from 40 percent to Depression-era rates of 22 percent. It isn't paradise, but some people have money, and it has fostered a night club boom.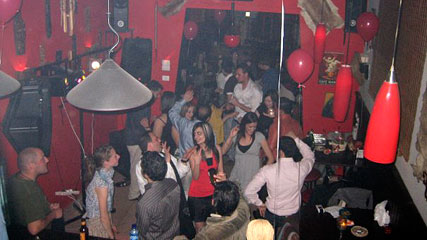 Bethlehem Christians are hoping that next year this time they can dance the Bo Peep in the sovereign state of Palestine.