The protest movement in Egypt scored several victories on Friday, but did not actually succeed in getting President Hosni Mubarak to step down. Their accomplishments include:
1. The hundreds of thousands (the Egyptian Arabic press is saying a million nationwide) of demonstrators showed that they had not been cowed by the vicious attacks of Ministry of Interior goons on Wednesday and Thursday, which killed 7 and wounded over 1,000.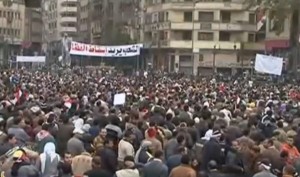 2. By their determination and steadfastness, they put the Egyptian army in the position of having to protect them from further attacks by the petty criminals and plainclothes secret police deployed by the Interior Ministry. The alternative would have been a bloodbath that could have destabilized the country and would have attracted further international condemnation.
3. They showed that they still have substantial momentum and that the cosmetic changes made in the government (switching out corrupt businessmen for authoritarian generals as cabinet ministers) have not actually met their demands for reform.
4. They showed that they are a broad-based, multi-class movement, with working-class Egyptians clearly making up a significant proportion of the crowd in Tahrir Square.
5. They demonstrated that they are a nation-wide movement, bringing hundreds of thousands out in Alexandria, Suez, Ismailiya, Mansoura, Luxor, Aswan and elsewhere.
6. They put pressure on the Obama administration to hold Mubarak's feet to the fire about an early departure.
7. They so reassured Turkish Prime Minister Recep Tayyip Erdogan that they are the future of Egypt that he took the risk of calling for Mubarak to step down.
8. By making a Mubarak departure seem sure, they tempted new presidential candidates into the arena, as with the Secretary General of the Arab League, Amr Moussa, who visited the crowds at Tahrir Square to some acclaim.
9. The optimism created by crowd actions caused Nobel prize winner Mohamed Elbaradei to make an about-face and affirm that he would be willing to run for president if drafted.
10. Gave cover to to Ayman Nur of the Tomorrow (Ghad) Party and other leaders of opposition political parties to continue to demand Mubarak's departure.