There isn't actually any mystery about the phenomenon of birtherism, the denial that Barack Obama is a US citizen and has a right to vote and hold office, or why obnoxious billionaire Donald Trump is resorting to it in his farce of a presidential bid.
Birthers are concentrated in former slaver, former Jim Crow states, which were forced to stop legal discrimination against African-Americans by the intervention of the Federal government from the 1960s, but many of whom retain a commitment to race and caste hierarchies as a way of ordering their societies.
A "Research 2000" opinion poll for Daily Kos, conducted 7/27-30, 2009, discovered the geography of this myth:
'Do you believe that Barack Obama was born in the United States of America or not? [I am showing here poll results for "no" and not sure only – JC:]…

…No 11
Not sure 12

So 11 percent of Americans are Obama-hating conspiracy theorists. How do they break down?

………No… Not sure

Rep …28… 30
Ind ……8…. 9
Dem ….4…. 3

South ….23… 30
Midwest …6…. 4
West ……..7…. 6
Northeast 4…. 3 …'
The South can be defined as: Alabama, Arkansas, Georgia, Florida, Louisiana, Mississippi, Texas, Virginia, and South Carolina, which, save for Texas, Florida and Virginia, is still distinctive in having very low rates of interracial marriage despite having high minority populations: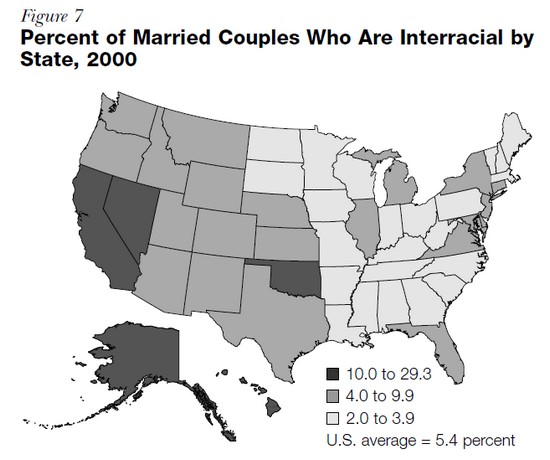 Interracial marriage in Minnesota and Vermont is also rare. But 1/3 of South Carolinians are African-American, and in 2000, only 3.5% of Minnesotans were.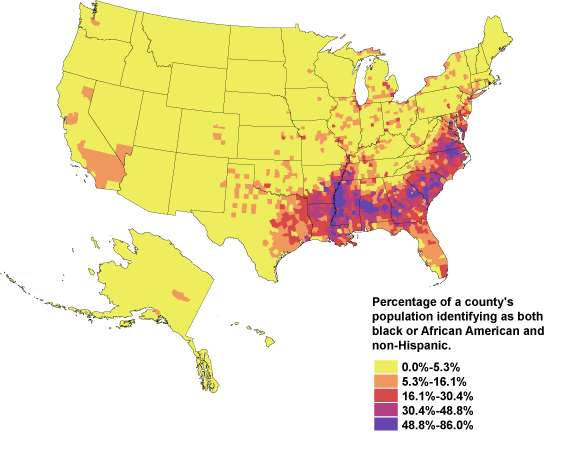 That is, to see the full extent of caste as it operates in the American South, super-impose these two maps on one another.
My guess is that interracial marriage in Texas and Florida is between people of northern European heritage and those of Latino heritage, not with African-Americans in the main; Virginia is skewed by Northern Virginia, which is like the Northeast. African-Americans marrying whites accounts for 11% of interracial marriages nation-wide, but the South clearly lags here.
Low rates of interracial marriage despite high rates of racial diversity map on to prejudice and concerns about racial status. And it is precisely the intersection of these two things that predicts where birthers will be found disproportionately.
Let us compare this geography of the denial to an African-American of the right to vote and hold office on grounds of unclear 'citizenship' to the remarks of James M. Nabrit, Jr. in his 1939 journal article, "Disabilities Affecting Suffrage Among Negroes," The Journal of Negro Education, Vol. 8, No. 3, (Jul., 1939), pp. 383-394, this quote on p. 384:
'It is interesting to note that the states which enjoy the most unhampered exercise of the right of suffrage and impose the fewest number of restrictions are the states which are furthest advanced economically, educationally, and socially; whereas the ten states, Alabama, Arkansas, Georgia, Florida, Louisiana, Mississippi, Texas, Virginia, Oklahoma, South Carolina, which have hinged the right of suffrage around and about by numerous restrictions such as reading and understanding tests of state and national constitutions, property qualifications (both real and personal), racial discriminations in registration, are those states of which the President [Roosevelt] asked that a study be made of their economic conditions, since they constitute, in his words, the "number one economic problem in the United States…" '
he adds:
"Although registration laws, poll-tax requirements, and reading and understanding constitution clauses have been upheld by the courts as reasonable exercise of legislative power for the purpose of preserving the purity of the ballot, the history of suffrage legislation in the South shows these provisions were not enacted for that pur- pose, but were designed solely to exclude Negroes from exercising the right to vote guaranteed them by the prohibition in the Fifteenth Amendment to the Constitution of the United States."
Indeed, when you bring up the idea of citizenship and the laws around it, it should be remembered that neither citizenship nor right to vote for African-Americans were considered in the early history of American naturalization law (see Charles H. Wesley, "Negro Suffrage in the Period of Constitution-Making, 1787-1865," The Journal of Negro History, Vol. 32, No. 2 (Apr., 1947), pp. 143-168, this quote on 152-153:)
' The first Naturalization Law of the United States, which was approved by Congress on March 26, 1790, bestowed citizenship as a matter of right and established a uniform law. It granted this right to "free white" aliens who had resided within the jurisdiction of the United States for two years. This period of residence was lengthened to five years in 1795. The Militia Law of 1792 also contained the word "white." The act to incorporate the District of Columbia of May 5, 1802, confined the franchise to "free white male inhabitants." These acts and others indicate that Congressional trends were towards the restriction of citizenship to free white males. This explains in part also why no action is to be found providing for Negro suffrage. Nevertheless, the paradox of citizenship interpretation was still apparent, for a resolution of the House of Representatives on December 21, 1803, stated that the Committee to enquire and report on the effectual protection of Ameri- can seamen, resolved also "to enquire into the expediency of granting protection to such American seamen citizens of the United States, as are free persons of color." While giving on the one hand some credence to the concept of citizenship for some, there was still the negation of suffrage participation." '
Trump has gone on now to question Barack Obama's intellectual credentials, which is sort of like Woody Allen questioning whether Arnold Schwarzenegger is actually physically powerful. He now wants undergraduate grade transcripts.
Late night talk show host David Letterman called this tactic what it is, racism.
Questioning whether an African-American can vote and hold office based on his academic accomplishments is again a way of pandering to residual Jim Crow sentiments.
The Georgia State constitution, Dr. Nabrit informed us in 1939, then had the following provision for ability to vote in that state:
' . All persons who can correctly read in the English Language any paragraph of the Constitution of the United States, of this state and correctly write the same in the English language when read to them by one of the registrars and all persons who solely because of physical disability are unable to comply with the above requirements but who can understand and give reasonable in- terpretation of any paragraph of the Constitution of the United States or of this State that may be read to them by any one of the registrars;
Just so the test could be targeted to the intended subset of would-be voters, the constitution further provided that:
'F. Section 34-111 (44) Race to be noted in book. For the purpose of more easily identifying Voters, the officers in charge of the Voters' book shall note therein, in connection with each signa- ture, the race of the person signing- that is to say, whether white or colored?
Trump is following the Karl Rove handbook, wherein you don't smear your opponent where he is weak, you demean him where he is strong. Obama is the most cerebral president since Woodrow Wilson, so Trump-Rove (TRove?) decries him as an undeserving affirmative action baby. But where it gets really ugly is that Trump is playing to Old South conceptions of racial discrimination in voting and office-holding.