Reuters reporters in Dubai are saying that a diplomat with knowledge of the negotiations going on between the Gulf Cooperation Council and Yemeni President Ali Abdullah Saleh told them that the plan was to have Saleh step down in favor of a transitional ruling council that would prepare for elections. Among those mentioned as potential transitional council members are Sheikh Hamid al-Ahmar (millionaire businessman and a leader of the Muslim al-Islah or Reform Party), former Prime Minister Abdulkarim al-Iryani, and another former Prime Minister, Abdulaziz Abdul-Ghani.
(Hmm. Despite what has been alleged by the Wobblies, I don't actually often hobnob with the powerful. But being an academic I sometimes do meet them at conferences. So I sat next to Mr. al-Iryani last summer at a dinner and asked him a lot of questions about Yemeni history and current events. Since I had been to Sanaa on more than one occasion and know some Yemeni history, he was approachable.)
Saleh has been invited by the GCC ambassadors to go to Riyadh for talks with the opposition, which however has announced that any plan that provides for Saleh to remain in power is a non-starter.
Saleh's political and diplomatic position has deteriorated rapidly in the wake of massacres committed in Sanaa and in Taizz by his security forces, as local politicians have abandoned him and even old backers like Riyadh and Washington have developed cold feet. On Wednesday, Amnesty International called for decisive action to halt the crimes against humanity being perpetrated by the Saleh regime. People, it reminds us, have a right to protest peacefully. Over a hundred protesters have been killed in Yemen this spring.
In Taizz on Wednesday, tens of thousands of protesters again came out into the streets in what they are calling the 'Tsunami of Taizz.' (The Arab press says 'hundreds of thousands' rallied, but it is only a city of 450,000, two-thirds of which are probably children, so the latter is probably an exaggeration). They chanted, "Leave, Ali, Leave" and "We want liberty!" According to al-Bayan of Dubai, the protesters were practicing civil disobedience, blocking a main thoroughfare, and they managed to paralyze the city. This was the fourth day of big demonstrations in the country's second-largest city. On Monday, security forces killed 21 and wounded hundreds by opening fire on them. Taizz is a market city for the coffee grown in the green countryside around it, and it also has some industries, such as jewelry-making, light textiles, and tanning. Aljazeera Arabic is showing pictures of protesters there tearing down huge billboards with Saleh's face on them.
In past elections, Ta'izz has returned seats for the General People's Congress, the ruling party with a nationalist and socialist cast, and for the Islah Party (Muslim fundamentalist). Back in the 1980s and early 1990s it had a reputation as a bastion of the Yemeni Socialist Party. It is a major intellectual center.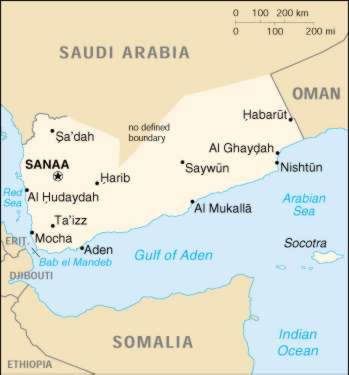 Thousands of protesters also took to the streets in the Red Sea port of Hodeida. Some 3 million barrels a day of petroleum moves through the Red Sea, and instability in Yemen (which so far produces little petroleum of its own) is viewed by security experts as a threat to global energy supplies.
Aljazeera English has video on the Taiz demonstrations: