I had grabbed an earlier version of this graphic off a Democratic Underground bulletin board from 2005. It made the point that the United States, which professes itself menaced by Iran, rather has Iran encircled by military bases. I have tried to update the map a bit, though this area is a moving target and the map no doubt isn't perfect. It is expressive enough, however, of the reality. Iraq and Uzbekistan no longer have American bases, but the US military now has a refueling station in Turkmenistan.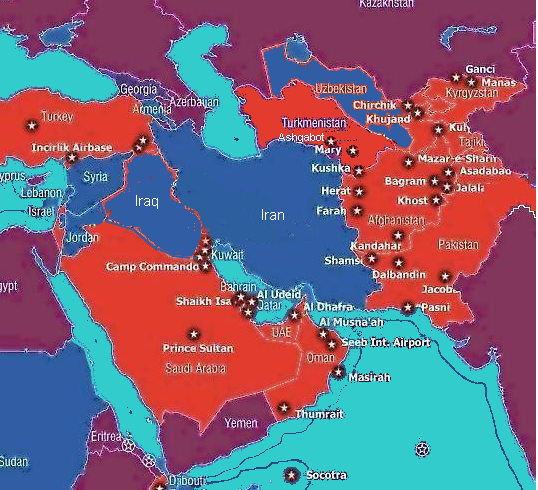 Some critics complained that forward operating bases are not much of a base. But actually, this map vastly understates the case. It shows only a few of the estimated 450 US military bases and outposts in Afghanistan, e.g. And it does not show drone bases, of which the US has 60 around the world.
Iran has 150 billion barrels in petroleum reserves, among the largest reserves in the world, but they cannot be exploited by US corporations because of Israel lobby-inspired US congressional sanctions on Iran. US elites, especially Big Oil, dream of doing regime change in Iran so as to get access to those vast reserves. Likely the most important US objection to the Iranian civilian nuclear enrichment program is that it could give Iran "nuclear latency," the ability to construct a bomb quickly if it seemed to Tehran that the US planned to attack. That is, the real objection in Washington to Iranian nuclear know-how is that it makes Iraq-style regime change impossible and so puts Iranian petroleum out of reach of Houston for the foreseeable future. This consideration is likely the real reason that Washington does not, so to speak, go ballistic about North Korea and Pakistan having actual nuclear warheads, but like to has a fainting spell at the very idea of Iran enriching uranium to 3.5 percent (a bomb takes 95%). North Korea and Pakistan don't have oil.