The results of the Egyptian presidential election, held on Wednesday and Thursday, won't be announced until Monday, say official sources in the government. In contrast, the High Electoral Commission is indicating that it will announce the results as soon as they are definitively known. Egypt is on a precipice between a relatively smooth transition and a lot of social turmoil, depending on who the front runners are.
But news is coming in as the ballots are being counted, and as I write on Friday, the race is too close to call. For profiles of the candidates, see my report earlier this week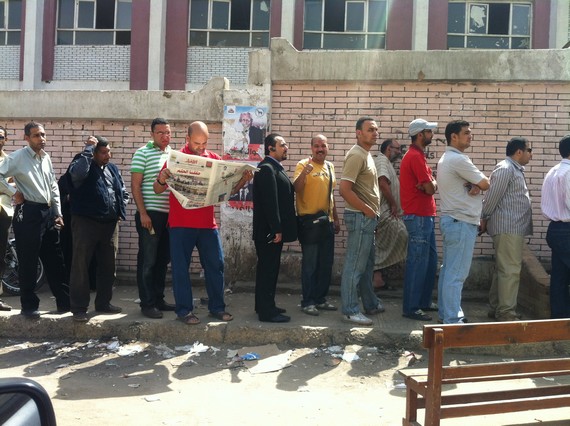 Abdel Moneim Abou'l-Futouh, the "Muslim liberal" candidate who had broken with the Muslim Brotherhood, can be counted out. He has conceded, and has thrown his support to the Muslim Brotherhood leader, Muhammad Mursi. He had been favored to win the election only two or three weeks ago, but his attempt to make everyone from liberals to hard line Salafi fundamentalists happy badly damaged him, since it raised the question as to what his real agenda was. I suspect that the support he garnered from some Salafi leaders, who urged their followers to vote for him instead of for Mursi, also scared away a lot of the leftists and liberals who had considered voting for him.
Abou'l-Futouh also had the effect of splitting the Muslim fundamentalist vote, depriving Mursi of a clear victory and damaging the Brotherhood's image as a party machine juggernaut.
Early returns also suggest that another possible front-runner, Amr Moussa (former foreign minister and former head of the Arab League), has also faded and looks unlikely to be in the run-off. His constituency deserted him in favor of Ahmad Shafiq.
As I write it is mid-afternoon on Friday, and there is a reported surge for the leftist candidate, Hamdeen Sabahi. He is now said to be in second place, ahead of former Aviation Minister and Air Force General Ahmad Shafiq. Sabahi won big in Alexandria, which had been trending fundamentalist, but which is a modern Mediterranean port city with a big, organized working class, who appear to have swung to him (perhaps along with a lot of government workers and the secular middle class, along with committed revolutionaries). Al-Nil television's correspondent is reporting as I speak that Sabahi also took Port Said, a smaller port city.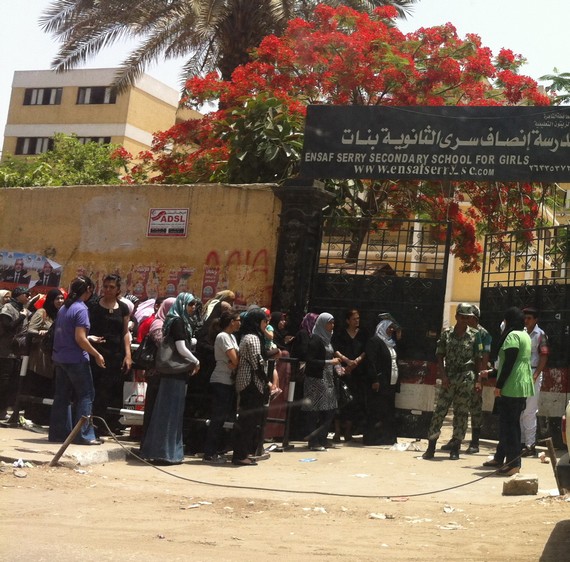 If Sabahi can maintain his narrow lead over Ahmad Shafiq, the resulting run-off will give Egyptians a choice between a leftist secularist and a Muslim fundamentalist, both of them from the opposition to Mubarak.
If Shafiq can pull back ahead of Sabahi, the resulting election would be a huge catastrophe for Egypt.
If Egyptians have to decide between Mursi and Shafiq, they'll have a stark choice. They could give the Muslim Brotherhood two of the major branches of civilian government and risk a swift move to Islamic law and one-party dominance. They could split the ticket and support the secular Shafiq, who is very much a creature of the old regime and of the Egyptian military. In some ways he would resurrect Mubarak's policies but will face new limitations in presidential rule by fiat. He speaks warmly of Mubarak, and would be a highly polarizing figure who would certainly provoke a whole new round of big demonstrations on the part of the New Left youth and perhaps also Muslim fundamentalists. He has ominously promised to crack down hard on "destructive demonstrations." Although the Western politicians and business classes might favor Shafiq for surface reasons, in fact they'd be buying a whole lot of trouble if they backed him.
A Mursi-Shafiq contest would certainly result in riots and fistfights all over the country, and if Shafiq won it would likely throw the country into substantial instability (an ironic outcome since the people voting for Shafiq in the big cities and the countryside are looking for a law and order candidate who can fight a slight rise in crime). It seems to me that the resulting demonstrations and unrest would risk further damaging Egypt's economy.
A Mursi-Sabahi contest, in contrast, will be much smoother, though still contentious. Sabahi is probably acceptable to most of the New Left revolutionaries, though they were ambivalent about him because of his Nasserist commitments (raising questions about his dedication to parliamentary democracy). Still, he was a steadfast foe of Mubarak, and was involved in the key Kifaya! (enough) movement of 2004 and after, which laid the foundations for the revolution. As a critic of imperialism and of Israel's treatment of the Palestinians, he might have some support from some of the Muslim fundamentalists who focus on that issue. And his insistence on social justice obviously has wide appeal across ideological groups.
Egyptian voters in a Mursi-Sabahi match-up would have a real choice between a pluralistic system and a return to virtually one-party rule. They'd have a choice between Muslim Brotherhood emphasis on private property/Turkish-style Neoliberalism and a more socialist policy (a la Hollande in France, perhaps). And in any case, both candidates would have a claim on opposition to the old Mubarak regime, and so an extreme polarization and "a further revolution", as promised by the New Left, could be avoided.
The final results will therefore be highly consequential for Egypt, and for US and Israeli foreign policy. Those rushing to declare the two run-off winners today, though, are probably jumping the gun, given the very small spread among the front-runners after Mursi.