The shooting down by Syrian anti-aircraft batteries of a Turkish F-4 Phantom jet flying over international waters a few days ago has the potential to internationalize the Syrian revolution and pull in NATO.
In the absence of a United Nations Security Council resolution authorizing the use of force against the Syrian state, France and other European powers have felt hamstrung.
Russia and China are blocking a UNSC resolution, largely because they want Syria in the sphere of influence of the Shanghai Cooperation Council (Russia, the Central Asian states and China, with Iran as an observer). They don't want it to become a NATO sphere of influence. Russia's president Vladimir Putin and the Russian Arabists who advise him view Syria as a long-time Russian client that gives them a foothold in the eastern Mediterranean (Russia leases a naval base at Tartous from Syria).
But in the United Nations Charter, there are two grounds for war. One is self-defense. The other is a UNSC resolution designating a state as a source of disorder in the international system.
By firing on the Turkish plane (more especially in international waters), Syria has presented Turkey with a legitimate casus belli, a legal cause for war. The news that Syria actually tried to shoot down a second Turkish plane underscores this legal point. Turkey may defend itself. (For the moment, Turkey is considering non-military responses such as cutting off electricity to Aleppo, Syria's largest city.) [The plane was shot down over international waters; it may have veered into Syrian airspace at one point, but that would have merited a warning, not a shoot-down.]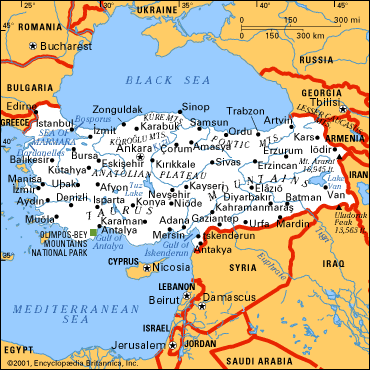 Here is the kicker. Turkey is a member of the North Atlantic Treaty Organization. And the NATO charter's article 5 declares that an attack on one member is an attack on all. NATO is duty-bound to defend Turkey if it is attacked and if it asks for help. Article 4 allows a country to call for consultations among the allies if it feels its territorial integrity is threatened.
Turkey is asking for help. It is asking that NATO be convened under Article 5 for only the second time in the organization's history.
Aljazeera English reports from Antakya:
Turkish intelligence says that it has evidence that the Syrian military knew that the plane was Turkish, referring to it as "komsu," the Turkish word for "neighbor."
One can only speculate at Syrian motives. But Turkey has given refuge to large numbers of Syrian dissidents in its Hatay province near to Syria. Turkey and Syria had established good relations in the last decade, but the revolution and civil war have forced Turkey to take a stand. Ankara has sided with the revolutionaries, and called for Syrian President Bashar al-Assad to step down. Qatar and Saudi Arabia are suspected of supplying the Syrian revolutionaries with rocket-propelled grenades and other war materiel that would allow them to take on the powerful Syrian military machine. Some observers believe that the RPGs and other weapons are being smuggled in from Turkey. And, such smuggling operations might need aerial support to make sure there aren't Syrian troops along the smuggling route.
So the Syrians may have deliberately been sending Turkey a message, to back off.
It was a stupid move. As long a Syria did not engage in hostilities with other states in the region, it was teflon, since Russia and China were protecting it at the UN. But now that it has fired on a NATO plane, it has offered Turkey and its colleagues a legal way to use force.
I don't think either Turkey or other NATO members will be at all happy to be drawn into military action in Syria. (Nor do I think that would be a good idea). But they might be drawn into creating a humanitarian corridor at Hatay in Turkey, and guarding it from Syrian attack.
By its unwise aggression against Turkey, Syria may have internationalized its civil war, something it and its allies had desperately been trying to avoid.
Moreover, if Turkey really does stop helping with electricity exports to Aleppo, that step could contribute to further discontent in one of the few major cities where protests have been muted and somewhat infrequent.