Health care is essential, and no American should be without insurance to pay for it. But prevention of diseases and injuries is as important as treating them. Since Americans live in a big company town where their banks keep them indebted and paying debt servicing and Big Agro uses them as storage bins into which to pour fatty foods, no one is really looking out for their health. Here are some obvious steps that would increase Americans' life expectancy and enjoyment of life:
1. Make processed tobacco illegal. Smoking cigarettes gives a lot of people lung cancer. Cigarette companies spray extra nicotine, an addictive drug, on the processed leaves to hook people on the habit. It is like lacing heroin with small amounts of arsenic and then putting it out for teenagers. The US not only allows cigarette corporations to kill Americans with their filthy product, they actually export it abroad to kill other countries' population with it. No government that actually cared about its people would allow such a deadly product to be sold to them.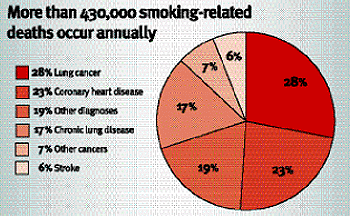 2. Ban coal. It causes air pollution, lung diseases, and climate change. Recent research shows that generating electricity from coal imposes more costs on the US than the electricity is worth.
3. Allow cities to impose restrictions on hand guns. Almost all hand guns are manufactured by just four companies, and are sold in cities where they contribute to America's world-beating murder rate (murdering people with bare hands and knives is much, much harder and they tend to run away or fight back).
4. Regulate the food industry and make them always put calorie counts for their food on the menu. Restaurants and fast food joints that plop 2500 calories or as much as 4000 calories down in front of patrons for a single meal are dooming them to obesity, heart disease, diabetes, and early death. Why would a government that cared about its people let them do that?
5. Go green. Climate change is bad for our health. It will cause heat waves and consequent strokes. It will cause extreme weather events that will injure people. It will endanger land species and cause acid to form in the oceans, killing the fish we eat. The US government spends, if you count everything, on the order of a trillion dollars a year on war and war materiel and the infrastructure of war. Cut it back to $200 billion, which would still be far more than every other country in the world, and spend $800 billion a year on a crash program to implement green energy and move rapidly away from hydrocarbons, and to redo the national electricity grid, and to move to electric vehicles.
6. Insist on safer vehicles and a safer road transportation system. Put in ignitions that are hard for someone to start when they are drunk. Put in mandatory computer slowing mechanisms when a car approaches the one in front of it too fast. Automobile collisions (they are not accidents) [pdf] kill 30,000 Americans a year and injure 150,000 a year, many of them seriously. At least 30,000 of the injuries are owing to drunk driving and probably more like 75,000 if you count the tipsy drivers as well. I have never understood why Americans are so willing to sacrifice up 30,000 lives a year to the bloodthirsty Automobile God, and to see a sixth of a million people injured annually by these clearly unsafe contraptions. They are at the same time absolutely intolerant of even one airplane crash that kills 100 people, and there is an outcry, and investigations, etc. But mowing the same passengers down on the highway is just fine with them. It is bizarre.
If the US didn't let our corporations fatten us for the kill and then slaughter us in these ways, health care wouldn't be as expensive for the country.
But all this is utopian, because the corporations promoting illness are spending millions of dollars to lobby Congress and have hired an army of lobbyists to ensure that they get their way. Our Congress in allowing itself to be so bribed is betraying us and killing us in the hundreds of thousands a year.