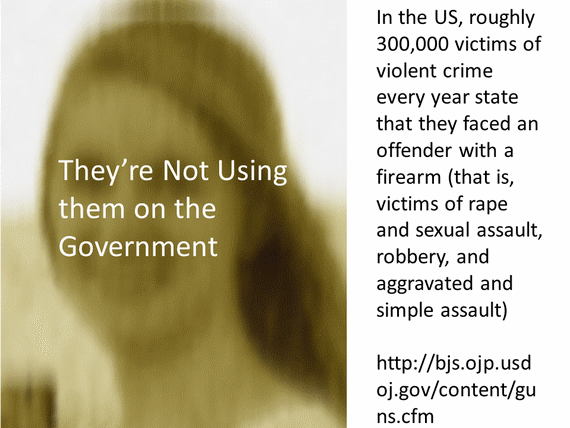 Some 300,000 violent crimes are committed each year in the US with the aid of a firearm..
One of the arguments for not banning the sale of military weapons to any old civilian (crazy ones included) in the US that one often hears from gun rights fundamentalists is that they need the guns to fight the government if it ever became tyrannical.
I can't actually find any evidence that these people actually care about key liberties such as Habeas Corpus or the right to a fair and speedy trial before the government blows you away from the sky, or the prosecution of illegal wars abroad.
What I do know is that the actual extent of violent crime in the US aided by guns is unparalleled in advanced industrial societies. Every three years, a million Americans are mugged, raped, assaulted, and robbed by people carrying firearms.
Not to mention that 59 people are killed every year with firearms in Britain, but 8,777 are killed by guns in the US (per capita, the rate in the US is 30 times higher).