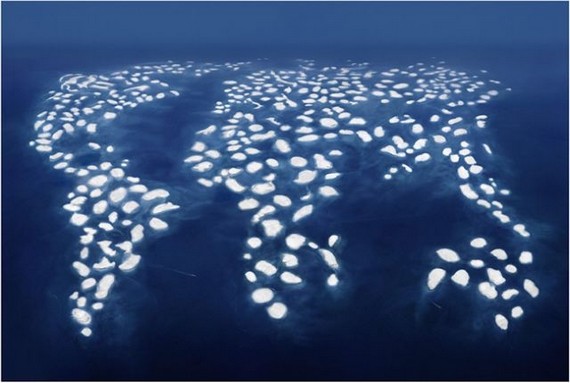 Andreas Gursky, "Dubai World III," Photograph, 2008.
Gursky (b. Leipzig, 1955) studied at the Dusseldorf Art Academy and is known for his large scale prints and interest in world tourist sites.
This photograph references the controversial "Dubai World" project started by Nakheel Properties, which built artificial islands off the United Arab Emirates, with the ensemble in the shape of the world. Some 70% of these properties sold, but the 2008 financial bust and its aftermath has interfered with virtually any of the planned resorts going ahead, and some reports say that some of the islands are sinking back into the sea. The Dubai government has now taken over the project. Unless it recovers, "Dubai World" is more a warning against excess than a celebration of the UAE's potential.