Doug Saunders writes in a guest column for Informed Comment:
The Three Myths About Muslims That Have Poisoned American Politics
The attacks on two of the most prominent Muslims in American public life last week seemed to have come out of the blue. It appeared as if five Republican Representatives had arbitrarily chosen this moment to lash out at Hillary Clinton aide Huma Abedin and Representative Keith Ellison for no reason other than their religion, in a bid to discredit the entire concept of Muslims taking part in national politics and government.
A sequence of letters and public denunciations, led by Rep. Michele Bachman and backed by four other Representatives, accused the two of being somehow indirectly affiliated with Egypt's Muslim Brotherhood. The charges were so devoid of substance that senior Republican leaders and many members of Congress were quick to condemn them as bizarre and inappropriate. Still, even though they came from a marginal corner of Congress (albeit one representing millions of Americans), the language of the attacks was drawn from an increasingly mainstream set of claims about Muslims in the West. The letters from the Representatives argued that Muslims in the U.S. government are part of a wide plot involving numerous ordinary Muslim-Americans to "impose shariah worldwide," to "undermine the U.S. Constitution," and to advocate "that Muslims not integrate into the cultures of non-Muslim countries." For a surprising number of Americans, these phrases represent commonsense thought about the Muslims in their midst.
These myths are strikingly similar to the set of charges that were commonly directed toward Roman Catholic and East European Jewish immigrants between the 1890s and the 1960s – that these groups are disloyal, supportive of violence, unwilling to integrate into Western values, driven by a religion that is actually an ideology of conquest, and poised to swamp our society through high reproduction rates. The people who hold these ideas, then as now, are not simply racists or xenophobes but often liberals who have come to believe – – based on misleading or distorted information – – that religious-minority outsiders are a threat to their freedoms and liberties.
In the years after the Sept. 11 attacks, these ideas came to be applied to Muslims in the West in a sequence of bestselling books, YouTube videos, websites, op-eds and activist campaigns organized by a small circle of anti-immigration authors and activists, increasingly often with funding from conservative foundations. The notion of a "Muslim tide" penetrated the American imagination. The millions of people who bought their books and watched their videos may not have subscribed to the movement's full idea of an Islamic plot to take over Western civilization through immigration. In many cases they were simply trying to understand the different and sometimes strange-looking newcomers in their midst, and the simultaneous emergence of Islamic terrorism – – but the effect has been to popularize an interlocking set of myths about Muslim immigration.
In my book The Myth of the Muslim Tide, I explain the history of these ideas and trace their emergence in twenty-first century popular and political thought, and provide a detailed, research-based examination of the realities behind them. Luckily, the past five years have seen a number of very large-scale international studies and surveys that have revolutionized our understanding of the beliefs, views, behaviours and loyalties of Muslim immigrants and their offspring. What emerges is a picture of a set of communities undergoing the classic experience of immigration and integration – – with the same difficulties and challenges experienced by poor Catholics and Jews in their time — but burdened with a set of popular myths that are leading them increasingly to be rejected and marginalized by the wider population.
I have identified three nested groups of myths that together have created a widespread misunderstanding of Muslims in the West and poisoned our political environment.
1. The Myth of Extremism
Core to the "Muslim tide" ideology is the belief that the jihadist terror attacks of the past decade are the result of the immigration of Muslims to the countries of Europe and North America. It has become popular to believe that violent jihad is simply an extension – – or perhaps the essence – – of ordinary Islamic belief. "It's not merely that there's a global jihad lurking within this religion," the popular "Muslim tide" author Mark Steyn wrote in a typical passage, "but that the religion itself is a political project – – and in fact an imperial project."
Is Islamic extremism simply a more explicit extension of ordinary Islamic belief? Is it cheered, even if not actively supported, by Muslims throughout the West?
Our belief that Western Muslims are cheering terrorism is often based on a few misleading statistics. True, one survey showed that 7 per cent of U.S. Muslims feel that acts of violence against civilian targets are "sometimes justified" and an additional 1 per cent feel they are "often justified." That's a chilling figure, until you learn that, in the same survey, 24 per cent of non-Muslim Americans said that such attacks are "sometimes justified" and 6 per cent feel they are "always justified."
In fact, numerous other studies show that support for violence, death penalties and "honour" killings among Western Muslims is usually similar to, and sometimes lower than, that of the general population. And support for figures such as Osama bin Laden has dwindled to the point of being barely above the levels in the general population.
It's the same when it comes to support for sharia law (which is simply the Islamic name for religious law, as with the Ten Commandments received by Moses and also used in Jewish and Christian holy law). In the United States, Gallup found that 46 per cent of citizens say they believe scripture should be "a source" of laws, while another 9 per cent feel it should be "the only source" of law – – numbers that don't differ much between Christians and Muslims – – and other studies show that Muslims in the United States and their community leaders have no measurable desire or ambition to make this reality. In France, where people are more secular, studies show that three-quarters of Muslims are actively opposed to sharia, almost half of them support the ban on headscarves in schools, and their rates of atheism and non-attendance of weekly prayers is about the same as that among Catholics. In other words, Muslims tend to adjust quickly to the level of religious observance around them.
mso-ansi-language:EN-CA'>But what about the terrorists themselves? There have been a number of major studies of their beliefs and motives in recent years, and what is clear is that almost none of them are motivated by religious faith or a desire to impose their beliefs on the world around them. Quite the contrary: it has repeatedly been shown that more religious Muslims are the least inclined to terrorism, and that those drawn to extremism are propelled by political, territorial and very often personal motives unrelated to faith. Not only that, but those Muslims who are living in tight-knit, religious-conservative communities and Islamic "ghettoes" are the least likely to go into political extremism or terrorism: Extremism tends be the preserve or fairly wealthy, educated Muslims who are isolated from other Muslims in relatively well-off neighborhoods. It's not the "Muslim tide" that is creating extremism, but rather the political beliefs of a few middle-class loners.
Indeed, a large-scale new study conducted by a group of U.S. researchers who examined the Koran passages quoted by 2,000 Islamic terrorists and supporters found no suggestion that any of them want to convert the West to Islam – – rather, their messages are of a nationalistic nature, based on preserving the separation of Islamic and non-Islamic worlds. It's no coincidence that "Muslim tide" figures such as Thilo Sarrazin in Germany and Christopher Caldwell in the United States express admiration for the "civilizational strength" of Muslim fundamentalist believers: They share the same core belief in independent and divergent civilizations.
2 – The myth of non-integration
Underlying the belief that every Western Muslim is a potential terrorist is the larger idea that Muslim immigrants and their offspring are opposed to Western values and lifestyles and are seeking non-integrated "parallel societies."
In terms of loyalties, Muslim immigrants express levels of support for their new countries that are similar – – and often higher – – than those of the native-born population. Yes, almost half of all American Muslims say they feel "Muslim first and American second" and 69% say religion is "very important in their lives." But that's almost exactly the same as with American Christians, 46% of whom see themselves as "Christian first and American second" and 70% say religion is very important in their lives.
All data point to Muslim immigrants and their children integrating into their surrounding societies as fast as, and sometimes faster than, the poor Catholics and Jews of the last century. In education, Muslims are leaders: 40% of American Muslims have earned a post-secondary degree, making them the second most educated religious group after Jews (61%) and far ahead of average Americans (29%).
In political beliefs, Muslims differ little: an impressive 62% of American Muslims say that Israel and Palestine can be reconciled, a rate nearly identical to the larger American population (67%). And even on heated issues of gender and sexuality, Muslims are becoming notably integrated: In the U.S., 90% of Muslims say women should be allowed to work outside the home, and 7 our of 10 say there is no difference between male and female politicians – – views little different from those of Americans in general. And 39% of U.S. Muslims (and 41% of those born in America) said in 2009 that homosexuality should be accepted – – lower than the 58% acceptance rate among Americans in general, but considerably higher than the 27% response given by U.S. Muslims four years earlier. In other words, they are falling into the patterns of mainstream American belief at an astonishingly rapid rate. These are not the patterns of a self-isolating "parallel society," but of people struggling to become as American as the people around them.
3. – The myth of population
Wrapped around these images of violence and separatism is a gnawing sense that the Muslims are arriving in droves and will soon outnumber the rest of us. Even people who don't subscribe to the notion of "stealth sharia" and theological conquest tend to believe that Muslims have inherently larger family sizes and therefore are poised – – perhaps deliberately – – to become majorities in European countries and American states, if not everywhere. Every author of "Muslim tide" literature expresses this idea in more or less dramatic form, and it is probably the reason why this movement has quickly become so popular.
Yet this is the most misleading myth of them all. Muslim family sizes and population growth rates are falling faster than among any other population in the world. Even in the most religious Islamic countries, family sizes are fast falling below the population-growth rate of 2.1 children per family. In Iran, where the average number had 7 children in the 1980s, it has fallen to 1.7 – – lower than in France. In Turkey, it is 2.1 children; in Lebanon, 1.9; in Tunisia, 2.0; in Indonesia, 2.19 and falling fast. Bosnian Muslims, at the heart of so many of the "Eurabia" theories of population takeover, have 1.23 children per family – – the very lowest rate in Europe.
What happens when they emigrate? Some observers have noted that Muslims have larger families when they immigrate to the West than they did in their home countries, fuelling theories of conquest by reproduction. Yet these are misleading: Because immigrants have most of their children within a few years of arrival, their official fertility rates are skewed unnaturally high. And Muslim immigrants overwhelmingly tend to come from rural regions, leading to higher family sizes than their originating country's general population.
There have been a number of very large-scale projections of Muslim populations conducted by respected organizations over the past few years. All of them show that the population-growth rate among Muslim immigrants and their offspring is falling extremely fast in every Western country, and is poised to converge with the native-born fertility rates by mid-century.
In the United States, Muslims tend to be very new immigrants – 63% of them were born in another country, and 71% of those immigrants arrived after 1990 – – so they have a comparatively high population-growth rate. In 20 years, there will be 6.3 million Muslims in the United States, making them, at 1.7% of the population, almost as numerous ad Jews and Episcopalians. American Muslims currently have 2.5 children per family, higher than the U.S. average of 2.1. But that rate is falling, so that their population in 20 years is likely to be close to a peak: The children of these immigrants appear to be having about the same number of children that average Americans do.
Declining family sizes are a clear indicator of social, economic and educational integration: When people are adopting a host society's values, their family sizes converge, and their use of birth control increases. This is demonstrably happening throughout the West.
Whatever problems are plaguing Muslim communities – – and they are numerous – – a secret desire to impose an alien religion upon an uncomprehending West is not one of them. The Muslims in our midst are following a path taken by millions of religious minorities who have arrived, adjusted, struggled against popular myths, and become integral parts of our societies. A simple examination of the facts shows this to be the case. We just have to take the time to look.
——-
Doug Saunders is the European bureau chief of The Globe and Mail. He is the author of Arrival City, which won or was a finalist for several prizes and was published in eight languages around the world. His most recent book is The Myth of the Muslim Tide (New York: Vintage, 2012)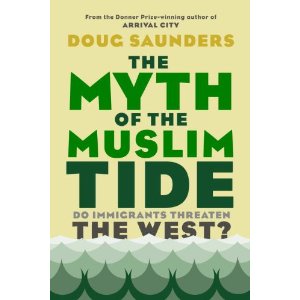 .