With news of a series of bombings and attacks in Iraq, of kidnappings and reprisals in Lebanon, and an ongoing Civil War in Syria, anyone who looks at the map of the Greater Middle East cannot fail to see a new Great Divide.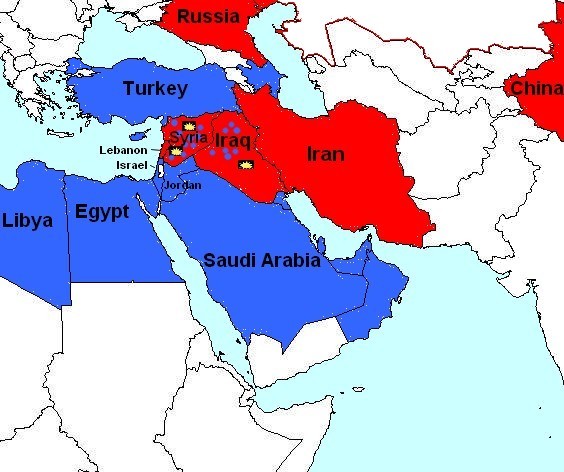 The Great Divide has three dimensions.
1. First, it pits the Shanghai Cooperation Council (Russia, China and the Central Asian states, along with Iran as an observer) against the North Atlantic Treaty Organization. NATO wants Bashar al-Assad to step down and is attempting to strangle Iran via financial and trade sanctions. Russia and China are supporting the Baath government of al-Assad and are opposed to increased sanctions on Iran.
2. Regionally, the Great Divide ranges on the one side: Iran, Iraq, Syria and Lebanon, and on the other Turkey, Saudi Arabia, Qatar and the Gulf Cooperation Council more generally, along with Libya and Egypt. This regional conflict is not exactly along sectarian lines, but sectarianism is an element in it. Saudi Arabia and Turkey are Sunni-ruled, whereas Iran and Iraq are Shiite-ruled. Saudi Arabia and Qatar are providing RPGs and other weapons to the Syrian rebels. Iran is charged with training and equipping not only the Syrian army but also the Alawite shabiha or 'Ghost Squads' that carry out massacres of Sunnis in places like Houla (yes, that was a regime massacre). Syria's Alawite minority, a branch of Shi'ism, predominates at the upper levels of the Baath Party, but the Baath is secular. Lebanon's Miqati government depends heavily of the country's Shiites and on their Christian allies, and leans toward al-Assad.
3. Locally and nternally, within each of the regional powers, a conflict is going on between supporters of al-Assad and those who want to see the Baath fall. Again, there is a sectarian dimension here, though it is not the only thing going on. On the whole Iraq's Sunni Arabs support the Syrian rebels, as do Lebanese Sunnis. Lebanese Shiites largely support al-Assad.
This local conflict is hot today.
In Lebanon, kidnappings and clan reprisals have spiked as the Syria conflict spills over on its small neighbor to the west.
In Iraq: Radical Sunni insurgents deployed bombings and shootings to kill nearly 60 people. The Iraq Sunni-Shiite conflict appears to have been reinvigorated by the events next door in Syria, where some radical Sunni Iraqis have gone to fight the al-Assad regime.
In Bahrain harsh repression by the Sunni monarchy of dissidents, especially those of Shi'ite heritage, continues,
with a twitter micro-blogger getting a 3-year sentence for his critique of the regime.
In Syria itself, the civil war continued on Thursday, and Friday morning. Syrian oppositionists decried the government air strike on Izaz that killed dozens of civilian non-combatants, including children. A UN inquiry concluded that regime elements and death squads were responsible for the Houla massacre in June — not, as regime loyalists whispered– the Free Syrian Army.
Fighting continued between insurgents and the state in the suburbs of Damascus and in Aleppo and other cities and towns around the country.
France24 reporters in the Damascus area describe how the rebels are getting secret help from regime insiders, and how they continue to gather forces for confrontations with loyalist troops:
The Great Divide in the Greater Middle East continues to devour its partisans on both sides and to introduce new forms of instability into the region. That it has three levels makes it intractable. In Libya, where one of the levels, the international, avoided deadlock and international actors could act decisively, they certainly shortened the conflict– a development that is unlikely to occur with regard to Syria, at least for the rest of this calendar year. In Libya, moreover, there were no sectarian divides. Only when al-Assad falls will there be hope for a return to relative peace in the region, and that event could be a ways off.