Israeli air strikes for the past 6 days have killed over 100 Palestinians in Gaza, many of them women and children; one strike deliberately targeted a media building that Israeli government knew to house journalists. Medics announced Monday that they are running out of key medicines (Gaza is under Israeli blockade). Military strikes are also interfering in the delivery of medical and other aid by international organizations in the Strip.
This Arabic-language report says that Israeli warplanes targeted the Jordanian field hospital late on Monday. I have not been able to find confirmation for this report, but if it is true, and deliberate, it would be a war crime.
A WHO spokesman reported Monday that injured individuals showing up at Gaza hospitals had "dramatically increased in the last 24 hours". Some 700 have come to hospital, 252 of them children. Nurses at Shifa Hospital, who work 12-hour shifts, say that the injuries they are seeing are unprecedented. One said, "It's very hard now, with many injured people coming every hour. Women and children outnumbered men, especially with the new wave [of attacks] targeting houses and civilian buildings."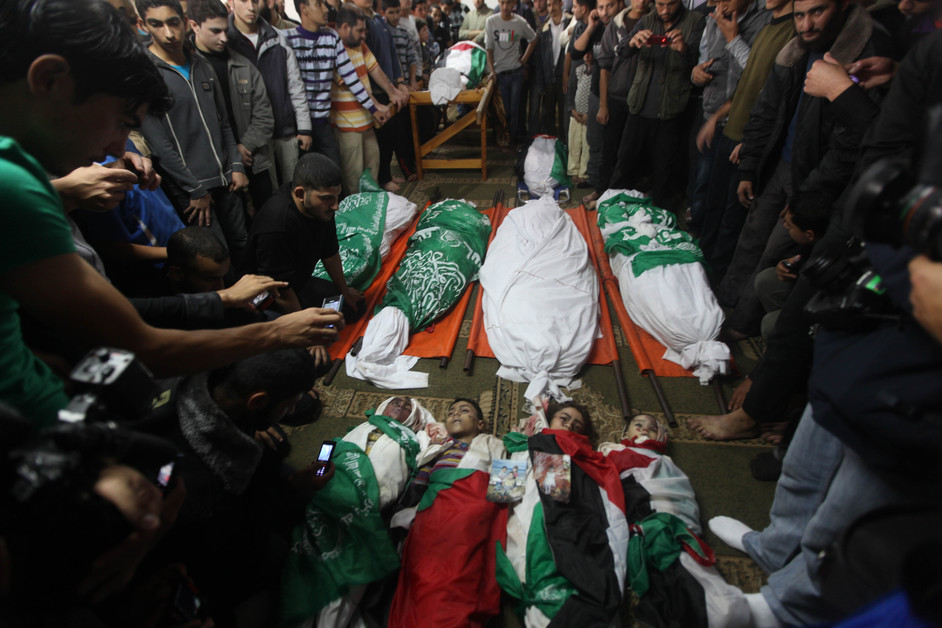 "Mourners gather around the bodies of the al-Dalu family during their funeral in Gaza City, 19 November.
(Majdi Fathi / APA images), courtesy Electronic Intifada"
Since small homemade rockets coming out of Gaza in 2012 had killed no Israelis before the Israeli Air Force started bombing the Gaza Strip last week, there is no doubt that Israel is engaged in a disproportionate use of force and a reckless disregard for the well-being of civilian non-combatants in its own occupied territory. Israeli army spokesmen claim they are precisely targeting only Hamas paramilitary personnel and blame Hamas for hiding among non-combatants. However, it is the Occupying power's responsibility to do due diligence in ensuring the safety of the occupied population, and if Israeli pilots don't have a clear shot at an enemy combatant, they simply should not take it.
These hostilities are deepening a longstanding crisis in Gaza health care that has resulted from deliberate Israeli policies.
The Reuters Foundation's Trust.org reported that 39 aid organizations are warning of humanitarian disaster in Gaza if there is no ceasefire soon. Nishant Pandey, director of Oxfam Country is quoted as saying:
"We urgently need to enforce a cease fire. The present conflict threatens to perpetuate and worsen the humanitarian impact on Palestinian civilians in Gaza of over five years of Israeli blockade and the 2008-2009 Israeli military operation 'Cast Lead'."
In a statement, the World Health Organization worried about lack of medicine:
"Many of the drugs at zero stock are lifesaving. Gaza hospitals are now having to deal with the growing number of casualties with severely depleted medical supplies."
Physicians in Occupied Gaza are attempting to treat head injuries, serious burns, and injuries from falling buildings and debris caused by Israeli pilots.
Aljazeera English reports on the difficulties faced by paramedics in Gaza during the Israeli bombardments:
A spokesman for the Israeli army tweeted on 19 November, "We continue to transfer goods & gas to #Gaza", saying that on 18 November some 16 trucks carrying medical supplies entered Gaza, and 26 Palestinian patients were taken to Israel for treatment.
Although Israel is now letting in some supplies, they were inadequate to the need even before these attacks. Medhat Abbas, head of Shifa Hospital, reported that his institution lacks 40% of the needed drugs: "The shortage, of course, affects the quality of our work. However, our staff are working to the maximum to fulfill needs in this catastrophic situation."
Morocco is setting up a field hospitals in Gaza to treat the wounded. Jordan has had one there for 3 years, and all the personnel are Jordanian.
Some 500 Egyptian activists, from the same youth groups that overthrew Hosni Mubarak in February, 2011, brought food and medical aid to Gaza on Saturday. Egypt is keeping its Rafah checkpoint with Gaza open for the transport of wounded to El Arish Hospital.

Wounded Palestinian at El Arish
The Gaza Strip, home to some 1.7 million Palestinians (about half of them children and minors), has been the victim for a long time of Israeli colonial oppression, including policies that deliberately harm the health and well-being of its residents. Stunting in children, along with widespread anemia in pregnant women and children, are one result of the economic blockade imposed on Israeli-occupied Gaza by the far right wing Likud government of Israel. Israeli strangulation of the Gaza economy has led not only to poverty and food insecurity but also to threats to the availability of potable water and access to medicine and hospital care.
A recent World Health Organization Report worries that in just 8 years, in 2020, if current Israeli policies continue, Gaza will be virtually uninhabitable. Israel as the occupying power since 1967 is directly responsible in international law for the well-being of its occupied populations, and is in severe violation of the 1949 Geneva Convention on the treatment of the occupied. Moreover, since Israeli policies of Apartheid, discrimination, exile, restriction of movement and infliction of harm on Palestinians in Gaza are long-standing, deliberate and systematic, Israeli leaders are guilty in this regard of crimes against humanity.
The WHO report:
"Ms. [Jean] Gough [of UNICEF] said that demand for drinking water was projected to increase by 60 per cent while damage to the aquifer, the major water source, would become irreversible without remedial action now. Mr.[Robert] Turner [of UNRWA] added that more than 440 additional schools, 800 hospital beds and more than 1,000 doctors would be needed by 2020."
Israeli airstrikes are exacerbating what had already been a parlous health care situation for Palestinians in Gaza.