The shooting of Kaufman, Texas district attorney Mike McLelland and his wife Cynthia remains a mystery. But investigators are increasingly looking into a cell of extremist white terrorists as the suspects. Two months ago, a county assistant district attorney, Mark Hasse, was murdered not far from his office at the court. (I used the term extremist white terrorists because that is what they are, but usually the American press only describes foreigners and Muslims as terrorists, while calling whites "extremists.")
Likewise, a gang of white terrorists is suspected in the recent slaying of the head of Colorado's prison system.
Rep. Peter King (R-NY) and other Islamophobes in Congress, seeking to look good to campaign donors who hate Muslims, has conducted several hearings on the alleged increased radicalization of American Muslims. Sociologists don't find evidence of such a thing; American Muslims on the whole are relatively well-integrated into US society and are disproportionately well off and pillars of the society. The hearings are a form of McCarthyism.
No one was killed or injured in the US in 2012 by terrorists of Muslim heritage, and only 14 Americans of Muslim heritage were even indicted for violent plots. Only one act of violence was traced to such a group, which produced no casualties.
Rep. Peter King is a big supporter of the old 1980s Irish Republican Army, which killed two Americans in a bombing at Harrod's department store in London. The man's feet won't touch the ground when he walks because of the rivers of hypocrisy exuding from between his toes.
In the meantime, Congress not only has held few or no hearings on the danger of white terrorism, it has actually pressured the Department of Homeland Security not to produce studies on the phenomenon.
It is not allowed to say this in the corporate media, but some Republican representatives and their constituents are, if not implicated in white supremacist sentiments, at least a little smelly in that regard.
According to the Southern Poverty Law Center, there has been recent explosive growth in the number and members of white hate groups: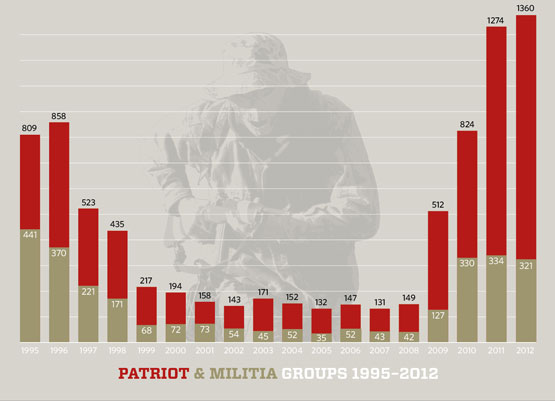 There is also a problem of hate groups in the military, some of whom are responsible for atrocities against innocent Muslims that have harmed the US image and US policy abroad.
But the Tea Party Congress won't investigate this problem.