Egypt's appointed interim President Adly Mansour swore in a cabinet of 33 ministers on Tuesday, including 3 women, 7 members of the National Salvation Front, and 5 members of the previous, Hisham Qandil, government who agreed to stay on. The cabinet contains some of Egypt's best economists, raising hopes that the country's deep economic doldrums can be addressed.
The Salafi Nur Party, hard line fundamentalists, in the end declined to allow any of their members to be appointed, and they were critical of the relatively liberal and secular character of the interim government. The spokesman for the Muslim Brotherhood, Muhammad al-Baltagi, denied that members of his group had been offered any cabinet posts by interim Prime Minister Hazem Biblawi, but said that the offer would have been refused if it had been made. This is what the interim government looks like: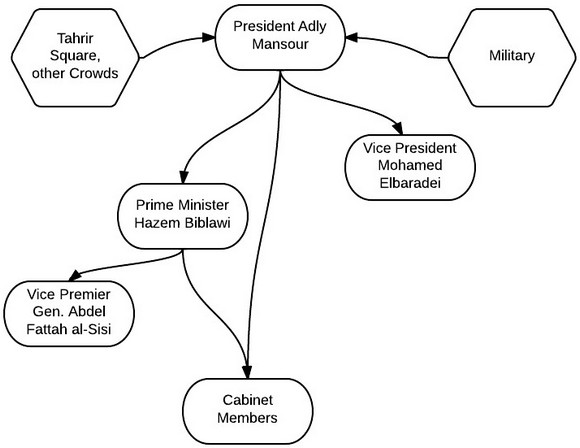 Among the Qandil government carry-overs is Defense Minister Brig. Gen. Abdel Fattah al-Sisi, who also became a vice premier under Biblawi.
Deposed, former president Muhammad Morsi remains in custody, and the interim government has opened legal proceedings against him, on the grounds that he was freed from prison in February of 2011 by Hamas, the Palestinian party-militia, and that he encouraged violent resistance to the combined revolution/ coup of July 3, 2013, leading to deaths.
There continued to be resistance to the interim government from the deposed Muslim Brotherhood. Although most of the resistance is peaceful, there were clashes between Muslim Brothers and police in Giza on Tuesday. Some 7 died in political violence, and some 200 were wounded.
Among the first orders of business of the new government was to lodge a complaint with the Turkish government for interfering in the internal affairs of a sovereign country. The ruling Turkish AK Party and its officials continue to say that Morsi is the legitimate government. It presides over a center-right government with some Muslim commitments and had good relations with the deposed Morsi government of the Muslim Brothrhood.
Some civil society groups have launched a boycott of Turkish companies.
A Turkish film showing in Egypt has had to fold because of a consumer boycott.
The Ottoman Empire ruled Egypt for some 400 years, from 1517, and some Egyptians may see Turkey as overbearing and still colonial.