The food fight between the United States and the Russian Federation has revolved around relatively minor issues in the two countries' relationship like whether Obama will have a summit with Putin in September (no), whether Russia would grant Edward Snowden asylum (yes), whether Americans can adopt Russian babies (no), whether the US would sanction Russian officials for the death in prison of dissident attorney Sergei Magnitsky.
The Russian government dismissed Obama's cancellation of his summit with Putin at the G-20 meeting (Obama will still attend the latter) as a sign that the United States still doesn't recognize the Russian Federation as an equal. That is, Putin feels that the Americans have a superiority complex and act in paternalistic and slighting ways toward other countries.
A less remarked-on round in this game of tit for tat (which so far doesn't rise to the level of being very serious) is the government's decision last April to deny visas to American officials and former officials who had something to do with torture at Guantanamo, where Russian citizens have been held.
The Moscow Times reports
"The list of banned officials released by the Foreign Ministry in April included former U.S. Vice President Dick Cheney's chief of staff David Addington, former U.S. Justice Department adviser John Yoo and various other Justice Department officials alleged to have violated Russian citizens' human rights. United States Admiral Jeffrey Harbeson, the former head of the Guantanamo prison, was denied a Russian visa in January, Komsomolskaya Pravda reported."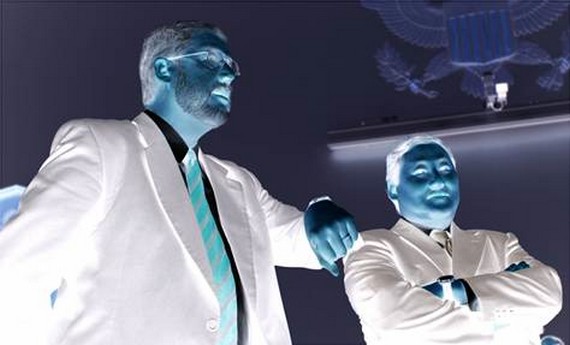 I mostly think these prickly diplomatic snubs are most unhelpful and that both countries should take a deep breath and step back. But actually, the banning of US personnel involved with torture is only right, especially since the US government is never going to prosecute these monsters. You hope that Russian authorities are making sure not to replicate American mistakes.
The reason I said at the outset that I don't think these tiffs with Russia are very consequential is that there is tremendous Russian cooperation with the US and NATO in Afghanistan, on fighting drug trafficking, and many other issues that seems unaffected by the diplomatic sniping of the two sides.