The health minister in the Gaza Strip has warned that the territory is on the verge of a major health catastrophe.
Children are risking cholera and worse because they have to walk through raw sewage to get to school. The sewage has flooded the streets in Gaza City because the sewage treatment plant has no electricity. It has no electricity because the Israelis are blockading the strip, including its children (50% of the population). The Israelis are not letting cheap fuel in. Some inexpensive fuel used to come in from Egypt, but the military there has blocked smuggling tunnels leading into the strip from the Sinai Peninsula.
The Israeli military has since 2007 punished the whole Palestinian population because the Hamas Party won the 2006 elections. It actually produced figures on how much nutrition could be let in while keeping both children and adults among the Palestinians "on a diet." US State Department cables revealed by Wikileaks show that the Israelis are deliberately keeping the Palestinians of Gaza just on the verge of a humanitarian catastrophe. As a result, 56 percent of residents are "food insecure." They aren't starving but they are just one or two lost paychecks away from starving. This kind of social engineering experiment on human beings (i.e. keeping Palestinians "on a diet") is unconscionable to anyone in their right mind. It is also illegal in international law to impose collective punishment on an Occupied population. Some 70% of the 1.7 million Palestinians in Gaza are from families expelled from what is now southern Israel by the 1948 ethnic cleansing campaign of Jewish settlers. Many could walk home in an hour or two but they are kept in refugee camps by the Israeli military. They are besieged on three sides by Israel and on one by Egypt, whose officers are cooperating with the Israeli-imposed blockade.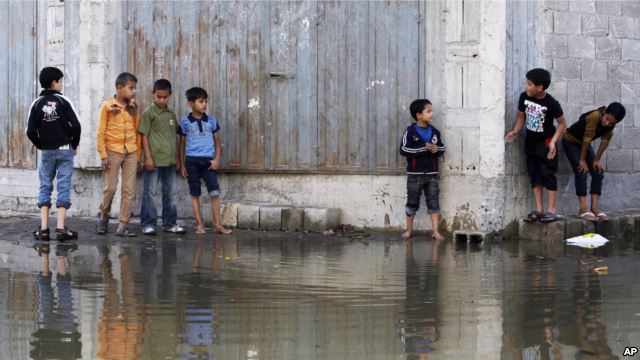 Here is a paraphrase of a report on the situation in the Palestinian Gaza Strip from AP:
"A Palestinian official in Gaza City , Gaza Strip, said that treatment plant sewage is overflowing into the streets because of the shortage of electricity needed for waste treatment . Gaza officials said that the spill could harm the environment and affect 20,000 people. The smell is rancid and the water is lapping at car tires. Gaza has been suffering from fuel shortages and power cuts that cause hours of outages. The electricity brownouts are due to closure by Egypt of smuggling tunnels on the border with the Gaza Strip , which provides fuel to the Palestinian territories. The transfer of higher-priced fuel prices by the Israelis continued."
BBC Monitoring quotes from the Israeli Arabic press:
"Al-Ittihad [organ of the Communist Party] [From editorial] "As though the accumulated tragedies which the people of Gaza Strip live as a result of the occupation, its crimes and siege, are not enough, power cuts for 18 hours a day constitute a tangible danger to life, safety and health of Gazans… The power cuts are caused by a fuel crisis… The matter has reached the extent of threatening lives of premature babies in hospitals and poverty stricken quarters where the evil has reached the extent of sewage water flooding streets and homes… It is the duty of those with a conscience to make a resounding call in order to save the people of Gaza from this killing darkness, killing siege and killing silence…"