(By Juan Cole)
When President Obama looked us in the eye and said that the US is not engaged in electronic surveillance for economic reasons, but only for the sake of security and anti-terrorism, he was lying through his teeth. He should be careful. His approval ratings have tanked in some large part because he has lost those who care about the 4th amendment and personal privacy. Reagan also became unpopular with Iran-Contra, when it became clear that he was lying to us what weapons he sold to Iran and what he did with the black money.
Lying is not fatal to a political career, but for the public to come to realize that you are systematically lying to them about something they care about– that is deadly.
Laura Poitras broke the story in a Danish newspaper and The Huffington Post also reported it, late Wednesday. The United States National Security Agency spied on delegates to the 2009 Climate Summit and used the knowledge they gained to game the negotiations in favor of the US (one of the world's two major carbon polluters).
In the end, armed with knowledge of the summit leaders' proposals, Obama sidestepped the UN process and essentially made a separate peace with a handful of other countries calling for holding global warming to a 3.4 degrees F. increase (2 degrees C.), but declining to put it into law or specify any specific steps to achieve that goal. It now appears clear that the US and the world will miss this goal by a large margin, and we are likely going to an average surface temperature increase of 9 degrees F., which could so destabilize the earth's climate over time as to endanger human life.
This behavior at Copenhagen and since is consistent with Obama's "all of the above" energy policy, which is a disaster for the earth. The policy allows Obama to praise non-existent "clean coal," to display joy that the US is producing more oil by environmentally damaging hydraulic fracturing, and to express, as he did in the State of the Union address, a hope for natural gas-fueled automobiles.
His praising of the advances of solar energy in the US was also disingenuous, since the US is way behind on solar installations compared to other advanced countries, and solar accounts for less than one percent of our electricity generation nationally: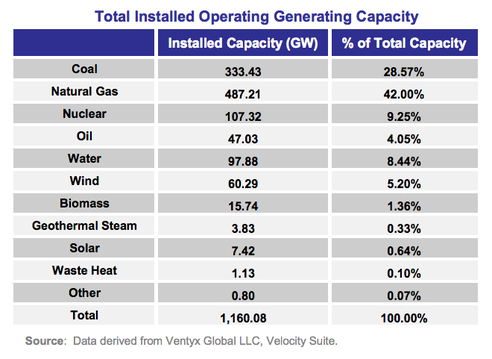 To his credit, Obama is in fact trying to use the EPA to more or less force coal plants to close, since almost all of them are in violation of US environmental laws and regulations even if they didn't produce an outsized proportion of our carbon dioxide pollution (they do). But we are to the point now in many states where they can be replaced for a reasonable investment (at or near grid parity) with wind turbines or solar panels and that's how they should be replaced. Not with fracked natural gas, which because of methane releases from mining it may be as bad or worse than coal in emitting greenhouse gases! By the way, in 2013 US carbon emissions increase 2%.
I can't explain Obama's "all of the above" rhetoric except as pure politics. I presume he says these things because he wants the campaign money from the hydrocarbon industries and the votes of their workers.
But we don't need someone who waffles on this issue right now. We need a leader.
Here is what it means for the US to go from generating 6 billion metric tons of CO2 annually to 5 billion (the world total is 32 bn metric tons annually). The US was 60 pounds overweight and told it would die in 20 years if it didn't lose the 60 pounds. It has lost 10 pounds and the deadline is around the corner.
I don't know if Obama is being less than upright, or whether he just does not understand that we don't have 50 years to make the transition away from high carbon generation. We have more like 15 years. He doesn't seem to get the urgency.
We live in a crucial two decades when the choices humankind makes will shape our world and the world of our grandchildren very powerfully. We need leaders who will openly say we have to find ways of keeping the dirty hydrocarbons in the ground, ASAP. A president in his second term without a majority in the House and who is very likely to lose the senate is the perfect such leader. He can't get legislation through, but he can set EPA policy and can say what he pleases with no fear of reprisal from campaign contributors.
Obama's position on NSA spying made me very suspicious. The evidence that he undermined Copenhagen by using the surveillance is absolutely damning. And his infatuation with natural gas dismays the hell out of me.
In literature, an "unreliable narrator" is a teller of the story who turns out to be, e.g. crazy, when you were reading it as straightforward. On green energy and environment, as well as on surveillance, Obama is increasingly an unreliable narrator, for reasons that are not transparent (and which are therefore potentially extremely dangerous).
—–
Related video: