By Juan Cole
Sen. John McCain on Sunday maintained that President Obama, in releasing the five officials who had served in the Islamic Emirate of Afghanistan in the 1990s and until 2001, had released people who were "hard core al-Qaeda who were responsible for 9/11."
I am shocked and dismayed that the knowledgeable Sen. McCain should confuse the Taliban and al-Qaeda and should blame Afghans for 9/11. The Taliban regime did host al-Qaeda and they were allies within Afghanistan against the Northern Alliance. The Taliban did also allow al-Qaeda to train fighters at training camps, who were known to have an interest in carrying out attacks in Indian Kashmir, Uzbekistan, etc.
However, I know of no documentary evidence that the officials of the Islamic Emirate of Afghanistan helped plan, or even knew about, the 9/11 attacks on the US until they occurred. No Afghans were directly involved in those attacks or in the money trail for funding them. Taliban officials maintain that they were already disturbed by Bin Laden's actions before 9/11 and made contacts with the US to find a way of surrendering him. That allegation may go too far, but that there were tensions between the Afghans and the Arabs in Afghanistan is well known, and that a country with a return address would not want to be involved in a direct attack on the US is perfectly plausible.
Not only is McCain making assertions of a serious sort for which there is no evidence, he is covering up his own past as a supporter of Muslim radicals in Pakistan and Afghanistan in the 1980s, radicals allied with al-Qaeda.
I wrote some time ago of McCain's record in Pakistan and Afghanistan in the 1980s:
"McCain appears never to have met a rightwing dictator he didn't like. McCain defends the dictator. Here is what McCain said about Musharraf late last December:
"Prior to Musharraf, Pakistan was a failed state," McCain said. "They had corrupt governments and they would rotate back and forth and there was corruption, and Musharraf basically restored order. So you're going to hear a lot of criticism about Musharraf that he hasn't done everything we wanted him to do, but he did agree to step down as head of the military and he did get the elections."
So in the building confrontation between democratic parties and the military dictator who trashed the rule of law, which would McCain support? What kind of relations will a president McCain have with the new prime minister of Pakistan if McCain is on record supporting the dictatorship that preceded?
The potted history McCain offers is wrong, and it points to the deep problems of authoritarianism and admiration for dictatorship in McCain's political philosophy. Pakistan was not a failed state before 1999, and in fact most of its political problems derived from repeated military coups such as the one spearheaded by Musharraf, as well as from the US government giving the Pakistani military gobs of money and enormous stockpiles of weapons, and winking at its nuclear program. In fact by "US government" above, we really could just substitute "Senator John McCain."
Pakistan's constitution prescribes a parliamentary government. When the military has allowed Pakistanis to go to the polls, they have elected moderate, centrist political parties such as the Pakistan People's Party and the Muslim League. Those parties have longstanding grass roots, cadres, canvassers, and loyal constituencies.
Bhutto was elected in 1971 as head of the PPP.
The PPP was overthrown in 1977 by Gen. Zia ul-Haq, a fundamentalist general who had his boss, PM Zulfiqar Ali Bhutto hanged on trumped-up charges in 1979 and who kept promising new elections that never came. Gen. Zia sponsored the Muslim fundamentalist Mujahidin that Ronald Reagan called "freedom fighters," and which included the early al-Qaeda. He also put enormous resources into making an atomic bomb. Nowadays a leader of that description would be part of Bush's axis of evil. But Reagan cozied up to Zia like a cat to catnip.
And McCain went out to cozy up to the military dictator himself, in February of 1984. McCain supported the Reagan jihad, cynically deploying radical Muslim extremists like Gulbuddin Hekmatyar against leftist secularists in Afghanistan.
Here is what McCain was up to when the radical Muslim extremist Gen. Zia was in power in Pakistan, according to UPI, Feb. 17, 1984:
'Senator John Tower, R-Texas, and Rep. John McCain, R-Ariz., arrived in the Pakistani capital Friday evening for the start of a three-day visit.

During their stay, the legislators will meet Pakistan's military president, General Mohammad Zia ul-Haq, and other top officials. . .

While in Pakistan, they will also visit an Afghan refugee tent village on the outskirts of Peshawar, near the border with Soviet-occupied Afghanistan.

On arrival at Islamabad airport, they were received by U.S. Ambassador Deane Hinton and Pakistani Defense Secretary Aftab Ahmad Khan.'
Now McCain is the big expert on problem solving in Pakistan. McCain is the Pied Piper of Hamelin; he'll be glad to get rid of your rat problem, but at the price of making your children disappear.
So lest we take any holidays from history, I have some questions for John McCain. Did you or did you not know about Gen. Zia's nuclear weapons program? Did you wink at it? If so doesn't that make you a proliferator of weapons of mass destruction to a radical Muslim extremist regime?
And what about this AP article from 1985:
' Rep. Tom Loeffler, R-Tex., presented the "Freedom Fighter of the Year" award to Afghan resistance leader Wali Khan on behalf of the U.S. Council for World Freedom on Oct. 3.

Loeffler called on Congress and the American people to "broaden support" for freedom fighters in Afghanistan, reminding listeners of America's own fight for freedom.

Congress has agreed to give $15 million in covert assistance to the Afghan cause, the first time the legislators have "stepped forward" with aid since the beginning of the conflict, according to Loeffler. . .

Accepting the award on behalf of Khan was Pir Syed Ahmed Gailani, head of the National Islamic Front of Afghanistan, for which Khan commands 20,000 resistance fighters.

Other congressmen who joined Loeffler included Rep. Eldon Rudd and Rep. John McCain, both Arizona Republicans. '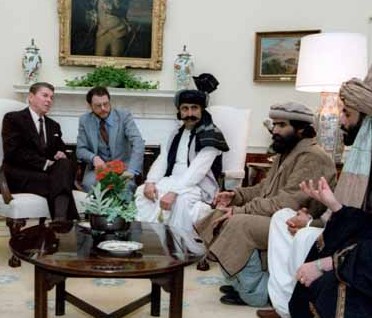 So how much support did John McCain give to the precursors of the Taliban in Afghanistan? To the budding al-Qaeda?
Despite what McCain says about military rule bringing stability, the opposite is the case. Never mind the dirty war in Afghanistan that led to the displacement abroad of 5 million Afghans, 3 million of them to Pakistan, and which helped destabilize Pakistan. Never mind the filling of Pakistan with machine guns and drug smuggling to support McCain's al-Qaeda "freedom fighters," which created a million heroin addicts in Pakistan. Karachi spiralled into virtual civil war in the mid to late 1980s under Zia. There were massive Shiite demonstrations against unfair Sunni fundamentalist policies of Zia. A Movement for the Restoration of Democracy began mobilizing political parties. Zia put Benazir Bhutto of the Pakistan People's Party under arbitrary house arrest.
Gen. Zia finally exited the scene in a summer, 1988, airplane crash. But he left behind 16 martial law amendments, among them a provision for the president, who is not popularly elected, to arbitrarily dismiss parliament and the prime minister. . . "