By Juan Cole
Kurdish forces at Kobane (Ayn al-Arab) on Saturday fought off an assault by ISIL that sought to cut the city off from Turkey and completely surround it, according to an Aljazeera reporter on the scene (At the moment, there is a corridor between Kobane and the Turkish border). ISIL also subjected Kobane to a fierce artillery barrage, as well as shelling the Mursid Pinar border crossing checkpoint, with some explosives landing on the Turkish side of the border.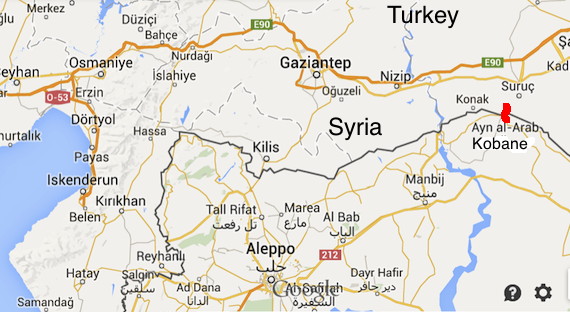 Aljazeera says that ISIL's strategy is to take the Syrian side of Mursid Pinar so as to close off the checkpoint and stop aid from Turkish Kurds and other sympathizers from flowing to Kobane's defenders from Turkey.
Kobane Kurdish sources told Aljazeera that the Kurdish fighters dominate the city's main square and that ISIL controls only 15% to 20% of the city in its eastern suburbs. The Kurds maintain that ISIL is being pushed east out of the town and that they are clearing ISIL pockets from the rest of the city.
In the east of Kobane, ISIL positions were hit 15 times on Saturday by the fighter jets of America and its allies. They also hit other targets in the region. US military spokesmen insist that the air strikes have helped stop ISIL's advance into Kobane, but warn that it could still fall.
ISIL attacks on Kobane and its surrounding villages have forced an estimated 200,000 refugees into neighboring Turkey.
——-
RuptlyTV: "Turkey: Explosions and black smoke dominate Kobane skyline"