By Juan Cole | —
What an incredible year this has been! Informed Comment has gone from strength to strength. We expect 2015 to be as dramatic, and will continue to expand our coverage, with both expert opinion and observers on the ground. I tried but failed to enlist a regular Middle East-based correspondent, but will keep trying, and did succeed in attracting many submissions from freelancers in the region this year. Be sure to sign up for delivery of the daily postings by email so you don't miss even one. Our aim is to be even more comprehensive, and to provide insights on world developments not found elsewhere that challenge lazy conventional wisdom and inside-the-beltway tunnel blindness. We seek to provide visitors with one-stop access to high quality curated sources for research on the Middle East, including maps and key documents and translations. That endeavor obviously requires resources, and the more we have the more we can do. Your support allowed me to pay guest columnists for some of our more popular entries this year.
Thanks to all those who have contributed in the past to make it possible for Informed Comment to continue and improve. This year those who contribute to Informed Comment will become members with a Golden Lion beside their own name in the comments as recognition for your role in making this site possible. You will also be included in a private newsletter only for contributors with some additional big picture behind-the-scenes analysis which will be newsletter only.
Those of you who donated last year supported important trips to the region so as to have first-hand, on-the-ground impressions that would help me interpret the news. I'd like to tell you about those trips, below.
This is a time of vast transformations in the Middle East, and it has never been more important for us to understand what is happening there. I, along with guest columnists, covered and will continue to cover key developments in a way seldom found in the MSM (which obsessed over a lost airliner, a New Jersey bridge, a Solange-Jay-Z tiff, and a phony Benghazi "scandal" instead of reporting news). The Obama administration is pursuing negotiations with Iran that, if ultimately successful, will change the face of the world. The Obama administration's effort at Palestinian-Israeli peace negotiations were derailed by the intransigence of PM Binyamin Netanyahu's far right government, setting the stage for another Israeli attack on little Gaza (during which ABC news showed an Israeli rocket strike near non-combatants and labeled it a Hamas attack on Israel). Sweden recognized Palestine, and the British and Spanish parliaments urged this step on their governments. Tunisia has passed a new constitution guaranteeing women's rights and freedom of belief and expression, and conducted new parliamentary and presidential elections in which the Muslim fundamentalists lost to secularists. Egypt saw the consolidation of a new military dictatorship and the crushing of the Muslim Brotherhood. Iraq collapsed, with the government losing 40% of the country's territory to an insurgent "caliphate" that erased the border with eastern Syria– perhaps the most dramatic alteration of borders in the region since World War I. These events drew the US back into Iraq militarily for the first time since 2011. Radical al-Qaeda affiliates or offshoots took over most rebel-held territory in Syria, besieging the Kurdish city of Kobane, even as the nationalist Baath government reasserted itself along the urban trunk road from Damascus up to Aleppo. Stay tuned in 2015 to the outcomes of these weighty developments!
Our new format, driven by a technical plug-in, has allowed four or five postings a day on world affairs and progressive politics, so that I've been functioning as an editor in finding or soliciting these other pieces for you. I brought out a new book a few months ago, The New Arabs: How the Millennial Generation is Changing the Middle East,


which has been widely and favorably reviewed and which makes an excellent holiday present for your friends and relatives :-)! In our pages, we've had eyewitness accounts from Egypt, Israel, Gaza, Iraqi Kurdistan and Turkey, and searching, critical opinion pieces on politics and Islam. And, I've continued to give you an interpretive essay every day of the year on what I think is the most important or interesting story of the day. (Those who like the old weblog view and are mainly interested in my essays can still find it here (click on the underlined text). We were up to nearly four and a half million page views last year, from slightly over four the year before. Informed Comment also has a big presence in social media. Twitter impressions for November alone were 1.3 million. I'm proud to say some 45 percent of our readers are women, and 60 percent of you are 34 and younger.
Philosophy and Mission of Informed Comment
Years ago I decided that I did not want to put Informed Comment behind a firewall and charge a subscription fee for it. That just isn't who I am. In my own view, there has been a long crisis between the United States (and perhaps much of the West) and the Muslim world that I felt a duty to attempt to interpret and analyze for both publics, not just for well-heeled elites. More recently issues have arisen such a climate change and the energy and water crises, which have a great deal to do with the Middle East and South Asia, my areas of expertise. This is a democratic blog, for the people and in dialogue with the people, for the common weal.
Travel and Field Reporting in 2014
Although I have some research funds from my university, there are categories of expense it does not cover, and my ability to go spontaneously to the region when there are important developments is enhanced by your subscriptions (academic fellowships have to be plotted out at least a year in advance, which is too inflexible for my style of academic journalism). Also, I do some pro bono speaking and traveling for, e.g. peace groups, and you support those expenses, too. Your support gives me the determination and courage to go on.
Visits to the region this year included a trip to Egypt last spring, so that I could gauge the political atmosphere in the run-up to the presidential elections. I found the atmosphere fearful and repressed in some respects, as the government is increasingly going after human rights Non-Governmental Organizations and jailing protesters. In other respects, there was among the people I met (from all walks of life) a happiness to be shut of Muslim Brotherhood rule (one working class man told me it had been like being in prison). Nor was the population all that cowed– there were lots of labor strikes, which the government clearly feared to put down with a heavy hand. I did attend a concert by dissident singer Mohamed Mohsen, who was later disinvited from performing at the Cairo opera house because he is not on board with Gen. Abdel Fattah al-Sisi's turn to neo-authoritarianism. The concert was packed with very enthusiastic young people who I suspect were blowing off some frustrations in this way.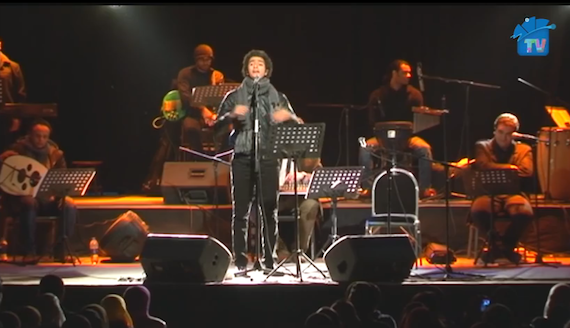 (Screenshot from the concert via Youtube).
I also went to Turkey, where the talk was about the over 1 million Syrian refugees now in that country and the lurching of the Justice and Development Party government toward more authoritarian government, with heavy press censorship and repression of peaceful protest.
I attended while in Ankara the World Middle East Studies Association meeting and gave a paper on cyber-activism in Tunisia. I was privileged to meet a number of young academics and activists from Egypt, Tunisia and other countries of the Middle East, and to learn from their perspectives.
Middle East issues are often framed by right wing media such as Fox Cable News in Islamophobic and frankly racist ways. Unscrupulous "news" providers play on the comparative lack of good information and analysis to manipulate public opinion on these matters so as to create fear and promote right-wing policies. Informed Comment is one of the few solid counterweights to this propaganda. Corporate news outlets, even relatively liberal ones, can almost never report evenhandedly on controversial issues such as the plight of the stateless Palestinians, because of fear of consumer boycotts. Likewise, much of the MSM in the US seems determined to obscure the dangers and sources of climate change, perhaps influenced by the vast wealth of Big Carbon or even because their parent companies are invested in that sector. Informed Comment is unconstrained by such considerations.
How to Help
Voluntary subscriptions or donations can be sent to Informed Comment via the contribution link in this post (which takes Paypal payments or credit cards). Here is the direct link again:
Thank you to all of my supporters for your generosity and your encouragement of an independent press!
Personal checks should be made out to Juan Cole and sent to me at:
Juan Cole
P. O. Box 4218
Ann Arbor,MI
48106-4218
USA
Plans for 2015
For 2015, we will continue to explore and develop the potentials of this magazine-format Informed Comment, to make sure it is the best possible resource on the contemporary Middle East.
I have several projects at Informed Comment for which I'd like to ask those who can to support. These plans continue to serve the larger goal of promoting understanding between the West and our neighbors in the Middle East. I will also continue to follow energy issues and climate change as these unfold, with their implications on the US, Europe, and the global South.
When events call for first hand reporting, I will continue travel for research and journalism to places where important developments are unfolding affecting US foreign policy, including of course the Middle East. Your contributions also allow me to solicit and pay for pieces from stringers on the scene.
To make all these projects a reality, I do need your help. Our budget is a tiny fraction of any other news organization in the world. Your contribution here very well makes a greater difference in the news landscape than anything else you could do.
All those who donate $100 or more will receive a blue and gold Informed Comment Polo shirt. Some kind readers give more than once a year, but if you want the Polo shirt, consider making a single larger donation. All those who donate will become part of an Informed Comment supporters club who will receive my private newsletter with some big picture political analysis and a Golden Lion beside their name.
Smaller contributions are also very much appreciated! Paypal allows small donations, and if all the people who read this site and felt they benefited from it donated even a small amount, we could turn it into a media giant.
Independent Media
Your donation helps me keep Informed Comment independent and prolific. Together we keep independent media alive. I would like to thank all my readers and contributors again for your support in 2014 and look forward to an even more productive 2015 together. Thank you for supporting our independent thinking and dialogue!