By Juan Cole | (Informed Comment) –
The murder by Daesh (ISIS or ISIL) thugs in Sirte, Libya, of 21 Egyptian Coptic Christians this weekend provoked the first formal Egyptian military incursion into another state's territory since the 1991 Gulf War. Egyptian fighter jets bombed warehouses, training camps and other assets of Daesh in Derna.
Cairo-based journalist Bel Trew writes,
#Libya FB page purportedly showing #Egypt military airstrikes in Derna hitting residential areas via @zaidbenjamin https://t.co/Oe09JEgmiw

— Bel Trew – بل ترو (@Beltrew) February 16, 2015
The Egyptian minister of pious endowments was shown on Alarabiya declaring that those who beheaded of Christians had "departed from the (Islamic) faith." I.e. he said they are not Muslims. Egyptian President Abdel Fattah al-Sisi has been calling for an Islamic reformation that leaves no place for extremism.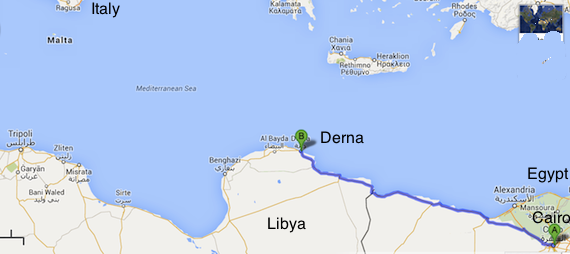 Veteran Egyptian journalist Sharif Kouddous noted:
Airstrikes on Libya appear to be Egypt's first official foreign military action since the Persian Gulf War 24 years ago

— Sharif Kouddous (@sharifkouddous) February 16, 2015
Italy, which just closed its embassy in Tripoli, has expressed great unease with having a Daesh stronghold so close to its shores, and appears to be seeking partners for some sort of intervention in Libya. That is a touchy proposition, given the cruelty of Italy's colonial occupation of Libya from 1911 until midway through World War II (some of the worst repression was under Mussolini).
Derna has for some three decades been a hotbed of Muslim radicalism, a tendency that was severely repressed under the former regime of brutal dictator Muammar Gaddafi. When George W. Bush invaded and occupied Iraq, young men from Derna went off to that country to fight US troops. These Libyans were one of the biggest foreign groups there, and many joined Abu Musab al-Zarqawi's al-Qaeda in Mesopotamia, which after his death in 2006 became the Islamic State of Iraq and then the Islamic State of Iraq and the Levant (Ar. acronym Daesh).
Derna's 100,000 people do not necessarily support political Islam, and they did not vote for fundamentalist candidates in the 2012 parliamentary elections. But extremist militiamen with guns and a background in Iraq have long menaced security in the city. Last fall, some 800 militiamen declared allegiance to Daesh in Syria and Iraq, though this step was mainly a matter of re-branding themselves. The 800 had been in Derna and had been radical fundamentalists all along. The collapse of the Libyan government, however, gave the Daesh militiamen an opening to assert dominance over the city. They have gone on to take Baida and Sirte. Daesh still does not hold much territory, and these towns are small, smaller than Las Cruces, New Mexico or Tyler, Texas.
Tripoli is mostly in the hands of Libya Dawn, a group devoted to political Islam that is opposed to the extreme hard line of Daesh and has vowed to kick Daesh back out of the neighborhoods it has taken in Sirte. The Egyptian Christians were guest workers in Sirte and were kidnapped there. Tripoli is the seat of the rump parliament elected in 2012, the independents in which became more fundamentalist over time. They were defeated in the May, 2014 parliamentary elections, which returned a parliament dominated by nationalists. But the old parliamentarians refused to stand down and they and the fundamentalist Misrata militia now dominate the capital.
The newly elected parliament now meets in the east of the country, in Tobruk. Its prime minister, Abdullah al-Thinni, has appointed Gen. Khalifa Hiftar, an anti-fundamentalist nationalist, as minister of defense. Al-Thinni recently dismissed his minister of interior for criticizing Hiftar. Hiftar has organized elements of the Libyan National Army to fight extremists in Benghazi. Hiftar is thought to be backed by Egypt, and he welcomed the Egyptian air strikes on Derna. In contrast, Libya Dawn decried foreign intervention in Libyan affairs (though many Libyans accuse them of having foreign patrons).
The International community, including the USA, largely walked away from Libya after the latter's 2011 revolution, whereas the country needed a great deal of help in setting up new institutions after decades of the mercurial rule of Daffy Gaddafi. Revolutionary states often fall into political violence, as with France's Vendee after 1789, as part of the process of establishing new forms of legitimacy.
Daesh has gotten its small toeholds in Libya because of a power vacuum and because local extremist fundamentalists are happy to rebrand themselves so as to appear more fearsome and invulnerable. There is likely no actual command and control by so-called 'caliph' of Daesh, Ibrahim al-Samarra'i, who is wounded and in hiding in Raqqah, in Syria.
The Egyptian bombing raids are probably not militarily significant, since you can't defeat 800 guerrillas on the ground that way. Nor do I expect Egyptian infantry to come into Libya. Egypt has its own security problems in Sinai. Egypt may become more involved in Libya, but it will likely be through air power, special operations forces, and forging alliances with more local leaders like Hiftar.