NB AFP has withdrawn the original story.
BETHLEHEM (Ma'an) — Israel on Monday rejected allegations by the government in the Gaza Strip that authorities had released storm water into the coastal enclave.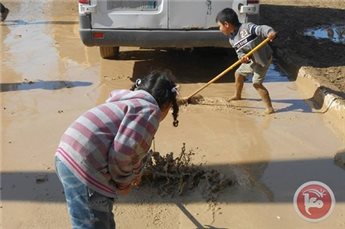 Children clear water after flooding in Gaza. (MaanImages)
In a statement, the Coordinator of Government Activities in the Territories said Israel did not operate dams in the south, contrary to claims that it had opened them deliberately to alleviate flooding.
"The claim is entirely false, and southern Israel does not have any dams," the COGAT statement said. "Due to the recent rain, streams were flooded throughout the region with no connection to actions taken by the State of Israel."
"Prior to the storm," the statement added, Israel "allowed the transfer of four water pumps belonging to the Palestinian Water Authority from Israel into Gaza to supplement the 13 pumps already in the Gaza Strip in dealing with any potential flooding throughout the area."
Hundreds of Palestinians were evacuated from their homes Sunday morning amid flooding in the Gaza Valley in the wake of a recent severe winter storm.
The Gaza Ministry of Interior said Sunday that civil defense services and teams from the Ministry of Public Works had evacuated more than 80 families from both sides of the Gaza Valley (Wadi Gaza) after their homes flooded as water levels reached more than three meters.
Gaza has experienced flooding in recent days amid a major storm that saw temperatures drop and frigid rain pour down.
The storm displaced dozens and caused hardship for tens of thousands, including many of the approximately 110,000 Palestinians left homeless by Israel's assault over summer.
Gaza civil defense services spokesman Muhammad al-Midana warned Sunday that further harm could be caused if Israel opens up more dams in the area, noting that water is currently flowing at a high speed from the Israel border through the valley and into the Mediterranean sea.
Evacuated families have been sent to shelters sponsored by UNRWA, the UN agency for Palestinian refugees, in al-Bureij refugee camp and in al-Zahra neighborhood in the central Gaza Strip.
The Gaza Valley (Wadi Gaza) is a wetland located in the central Gaza Strip between al-Nuseirat refugee camp and al-Moghraqa. It is called HaBesor in Hebrew, and it flows from two streams — one whose source runs from near Beersheba, and the other from near Hebron.