BETHLEHEM (Ma'an) — Extremist Jewish settlers set fire overnight Tuesday to a mosque in the southern West Bank town of al-Jaba west of Bethlehem, locals told Ma'an.
As worshipers arrived around 4:30 a.m. Wednesday to prepare for the dawn prayer at al-Huda mosque, they saw smoke and flames rising from inside the building.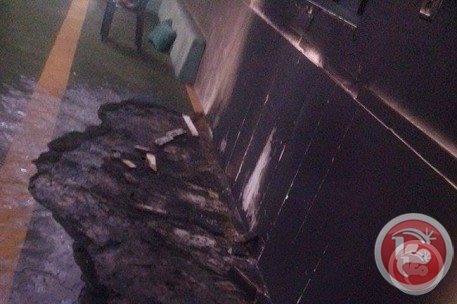 Worshipers alerted neighbors and together they joined forces until they managed to put out the fire.
Racist slogans calling for killing Arabs and Muslims were sprayed on the walls in Hebrew.
The Palestinian foreign ministry said the attack was tantamount to "an official declaration of religious war," the official WAFA news agency reported.
"This new attack is a sign of the mounting violent extremism within Israeli society," it said.
The attack coincides with the 21st anniversary of the Ibrahimi Mosque massacre in Hebron when an extremist American-born Jew Baruch Goldstein opened fire at Muslim worshipers at dawn prayer.
The attack killed 29 people and injured more than 120.