By Juan Cole | (Informed Comment) –
50 years after the Selma march to Montgomery, African-Americans still face substantial impediments to their full citizenship in the United States. We all saw the scene in the film "Selma" where the Oprah Winfrey character has to pass an arbitrary test to vote (and is always failed by the white sheriff). As soon as the John Roberts court (which has a problem with race) lifted Federal oversight of state voting practices, red states predictably passed a rash of voter suppression laws under the guise of demands for government-issued i.d. to vote. African=Americans and the poor are least likely to have such i.d. or to have the time or money to acquire it. Republican officials have openly admitted that the voter i.d. laws were intended to suppress the Democratic Party vote.
There are other forms of voter suppression. In Ferguson, Mo., the black vote was reduced by the ruse of holding elections in April rather than November; minorities tend not to come out for out of season elections, in part for economic reasons. Likewise, in Ferguson party affiliation is not shown on the ballot. Given that 95% of African-Americans vote Democratic and that there are almost no African-Americans in the Republican Party, showing party affiliation has racial implications in a place like Ferguson, where the white elite managed to retain its hegemony over government and policing even as the town of 20,000 moved to having a 67% Afriacn-American majority. These kinds of de facto minority voter suppression are hardly unique to Ferguson.
The massive expansion of the prison population in the US, which today stands at over 2 million, began after the passage of the Voting Rights act. In many ways, the prison system and forms of legal harassment of African-Americans have just replaced Jim Crow abuses (in many states ex-felons cannot vote).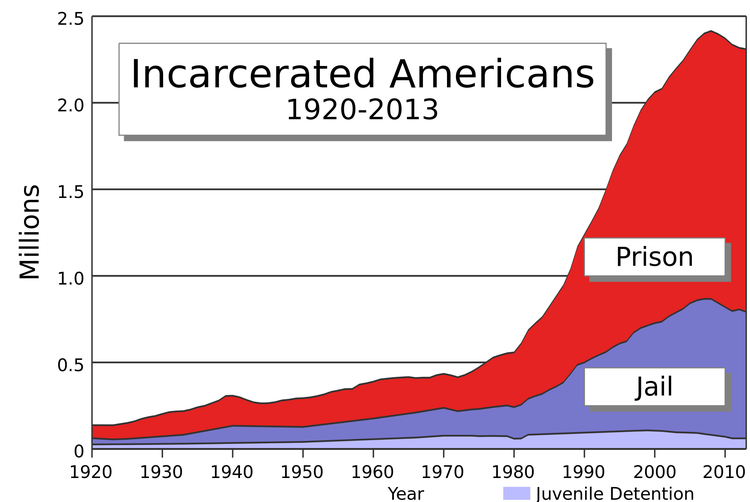 And the biggest single group of people in prison by ethnicity are African-Americans, who are 12.6% of the population and about 40% of the inmates.
It should not be assumed that African-Americans are jailed so much more frequently than whites because they are guiltier.
Dorothy Brown observes of the DOJ report on Ferguson: "While 29% of the population is white, 12.9% of vehicle stops involve a white driver. Blacks were almost twice as likely to be searched as whites, even though searches of blacks were less likely than whites to result in contraband being found (21% vs. 34%)."
The unreasonably high arrest rates for African-Americans in Ferguson turned into a massive extra municipal tax on them. They were often fined, and when they could not pay the fines went up and they could go to jail. There were arrest warrants out of much of the population. The city was getting 20% of its revenue from this tax-by-tickets, almost all of it from African-Americans. The system was not only discriminatory, it was positively predatory. Ferguson is, again, hardly unique.
Despite all these attempts to keep African-Americans second-class citizens, they have mostly failed. African-American participation in the 2012 presidential election was 61.5%, higher that year than the turnout of non-Hispanic whites (this is the first time).
It is at the local and state level that the African-American vote has meant less in recent years. The struggle continues.
—–
Related video:
VOA: "50 Years Later African Americans See New Voting Rights Battles Ahead"