Just to show Iraq's ups and downs, here is a celebratory article from the US Department of Defense about the apparent rollback in Ramadi of al-Qaeda in Mesopotamia (the parent organization of Daesh/ ISIS/ ISIL) from 2007
By Jim Garamone
American Forces Press Service
RAMADI, Iraq, Dec. 19, 2007 – Driving through downtown Ramadi today is a strange experience for anyone who saw the city in 2006.
Navy Adm. Michael G. Mullen, chairman of the Joint Chiefs of Staff, visited the city today and said he's amazed at the differences from a year ago.
There is construction in the streets of the city; school is out of session and children play on playgrounds, including riding on a makeshift Ferris wheel that would give a safety inspector fits.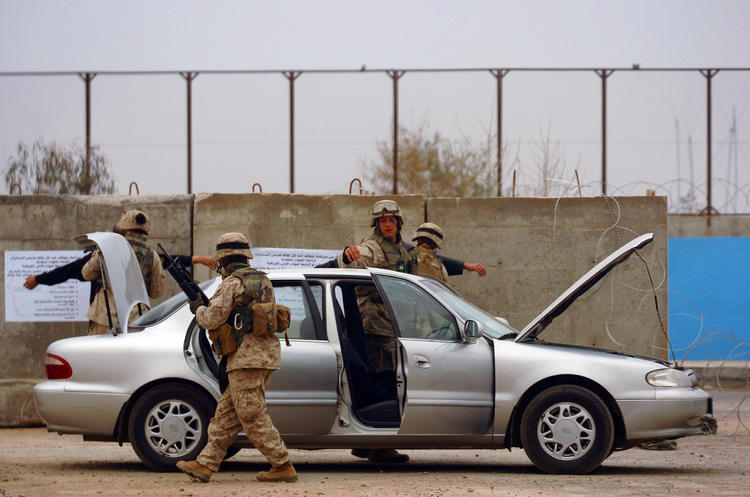 US Military Checkpoint, Ramadi, 2005 via Wikimedia
The firehouse stands full of trucks, and firefighters sit outside waiting for a summons. Iraqi police patrol the streets. The market is fully stocked, and shoppers search for bargains in electronics, household appliances and food.
Ramadi looks like a normal Middle Eastern city, albeit with a lot of buildings exhibiting bullet holes.
Ramadi in 2006 and into 2007 was al Qaeda in Iraq's capital city, with a population ruled by fear, intimidation and terror. Only 200 Iraqis were brave enough to serve as police in Ramadi. The provincial government could not sit in the city, the provincial capital, because of the intimidation. The governor and his staff were a government in exile meeting in Baghdad.
Coalition servicemembers moving from one part of the city to another invariably received small-arms and mortar fire or struck improvised explosive devices. Many Marines and soldiers died in Ramadi.
Beginning in April 2007, tribal sheikhs and leaders and people of Ramadi decided enough was enough and found common cause with coalition forces against al Qaeda. "(Al Qaeda) has no support from the local population," said Army Col. John Charlton, commander of 1st Brigade, 3rd Infantry Division, and operations in the area centered on Ramadi. "The people of Ramadi will not let al Qaeda get back in. They contrast the security they have now with the terror they had before, and they just won't let that happen."
Charlton's comments came during a walking tour of Ramadi's market for Mullen, who walked through the market surrounded by children, their parents and just plain shoppers.
Mullen also visited a joint security station in the heart of the city. Manned by a company from 1st Battalion, 8th Marines, the station combines coalition forces with Iraqi security personnel and serves as a focal point for security operations in the market area.
"This is representative of what is going on all over Iraq," the chairman told the Marines at the station following a meeting with company and battalion officers. "It is very powerful stuff, and we are very grateful for that. You are serving at a really vital time in a really vital part, not just of Iraq, but of the world…
Via DoD News