By Juan Cole | (Informed Comment)
The Times of Baghdad (al-Zaman) reports that fighters of the Daesh (ISIL, ISIS) terrorist group raised their black flags over the central government building in Ramadi on Friday. The city, just sixty miles due west of Baghdad, is the capital of al-Anbar Province. Daesh announced their victory with megaphones at all the major mosques, having taken control of most of its neighborhoods. Government troops fled the city and repositioned outside it, facing continued attacks.
Ramadi police report that Daesh fighters attacked the government HQ on Thursday night with vehicle bombs driven by kamikazis, once a huge earth mover had broken down the walls. The deputy police chief was wounded. Fighting continued on Friday in some parts of the city. Just to the west of Ramadi lies an army HQ, which the Iraqi military still controls.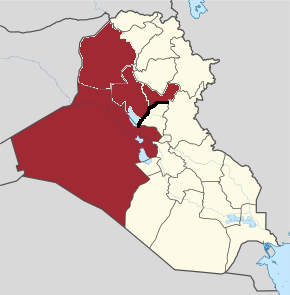 Daesh has been trying to take Ramadi for the past year, and in a concerted way since April, and had established a firm presence in the northern suburbs. Some 130,000 residents have fled. The organization recently lost Tikrit in Salahuddin Province north of Baghdad, and has had difficulty keeping the refining city of Beiji north of Tikrit. It needed a victory, and solidly Sunni al-Anbar Province, most of which it already controls, was the place it could make its advance.
An Iraqi officer said he had warned late on Thursday that without army reinforcements from Baghdad and without close air support from the US-led coalition that has been bombing Daesh elsewhere in the country, the city would shortly be lost.
Some of the problems Iraqi Prime Minister Haydar al-Abadi may be having keeping Ramadi may stem from his rift with some of the Shiite militias, who did the heavy lifting in the assault on Tikrit. Some of them have retired from the battlefield in anger because they were criticized for acting like Shiite extremists. But Sunni tribes in the Ramadi region eager to fight Daesh also complained that they have never received promised government weapons and that the government seems to be afraid to arm them.
Why exactly the Iraqi forces in Ramadi could not get reinforcements or air support is not clear. The Iraqi army also does have helicopter gunships, which appear also not to have been deployed, despite the fighting being near the capital.
The Daesh fighters characterize the Shiite-dominated Iraqi government as "Safavid," referring to an early modern Shiite Iranian empire that ruled Iraq for 40 years in the late 1500s and early 1600s. They announced that they had taken the "Safavid police HQ." In fact, Many police and pro-government forces in Ramadi are Sunni, and in any case the elected Iraqi government simply reflects the country's Shiite majority.
If Daesh can keep Ramadi, al-Zaman points out, it will have two provincial capitals (it has had Mosul, capital of Ninevah Province, since last June).
—
Related Video:
Aljazeera English: "ISIL seizes main government compound in Ramadi"