By Celine Hagbard | IMEMC News | – –
Thousands of Israelis, including legislators and , gathered Monday in front of the home of Prime Minister Binyamin Netanyahu, calling for increased theft of Palestinian land for the expansion of Israeli colonies.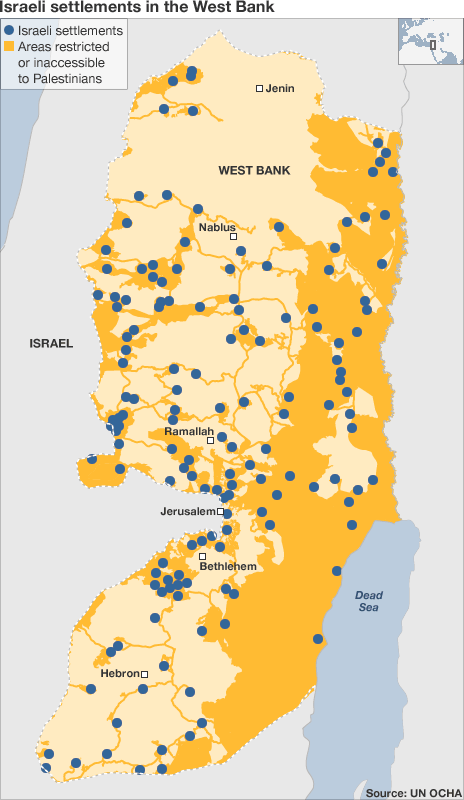 Israeli settlement map (archive image)
The settlers who organized the rally set up a tent and stage outside of Prime Minister Benjamin Netanyahu's home, and a sound system blasted the words of the speakers along with bands playing music supportive of the settlers' expansion campaign.
Yossi Dagan, the head of a right-wing settler group, called on the Prime Minister to establish more colonies in the northern part of the West Bank near Nablus, which is an area that is supposed to be under complete Palestinian control under the Oslo Accords of 1993, but has been increasingly violated by Israeli expansion in recent years.
"In light of recent terrorist attacks", one of the speakers shouted, the Israeli government should forcibly take over more Palestinian land. No one at the rally addressed the fact that this expansion is likely to anger Palestinians whose land is taken, and further exacerbate the tension that has already reached a breaking point after decades of unabated Israeli encroachment onto Palestinian land.
The protesters were addressed by two Israeli Cabinet ministers, Social Affairs Minister Haim Katz and Minister of Tourism Yariv Levin. Levin stated, "We're here to strengthen the government to do the things we all believe in", adding that he hopes to pressure the Prime Minister to increase the expansion of colonies in order "to beat terrorism in [the] most Jewish way possible."
Katz said, "we must start building kindergartens and schools, expand existing settlements and build new ones." The expansion he calls for is in direct violation of the Fourth Geneva Convention, to which Israel is a signatory, which prohibits the transfer of civilian populations into land captured and occupied by an invading military.
The Israeli military has illegally occupied East Jerusalem and the West Bank since 1967. In that time, particularly since the Oslo Agreement was signed in 1993, Israeli military bases and settlement colonies have significantly expanded, with hundreds of thousands of civilians building houses and developments on illegally seized Palestinian land.