By: Emily Mulder | ( Ma'an News Agency ) | – –
JERUSALEM (Ma'an) — Mohammad, a 20-year-old Palestinian and resident of Jerusalem, was attacked by a group of Israelis on Oct. 14.
His uncle, Aziz Abu Sarah, told Ma'an he had met the teen for lunch earlier in the day and given him the keys to his father's car, parked outside the Mormon College in the city.
When Mohammad walked to the vehicle, a group of around 10 men that Abu Sarah described as "religious nationalists" were standing in the parking lot.
While Mohammad thought the group wanted to talk to him, one by one they began to beat him, first with fists and then with clubs. The group then ran after him with knives yelling: "Kill him, kill him!" before he was able to reach his car and escape.
Mohammad was left with several injuries and Abu Sarah thinks the group would have killed his nephew if he hadn't gotten away.
Violence is growing deeper in the sinews and cracks of Jerusalem; from Israeli soldiers at newly erected checkpoints, right-wing Israeli Jews on city streets, and Palestinian youths straining to shrug off the decades-long occupation of the eastern part of the city.
To date, over 60 Palestinians have been killed by Israeli forces since the beginning of the month across the occupied Palestinian territory and at least ten Israelis have been killed in attacks by Palestinians, many of which have taken place in occupied East Jerusalem.
In response, Israeli Prime Minister Benjamin Netanyahu has passed several measures against Palestinians in an alleged attempt to deter violence inside of Jerusalem while MK's and police call for the protection of the city's Jewish residents.
In the city that Israeli leadership has long touted as the "united" capital of "the only democracy in the Middle East, " Palestinians in Jerusalem say they are being marginalized by Israeli authorities more than ever before.
The measures, they say, are rooted in fear, capitalized on by the right-wing dominated Israeli government.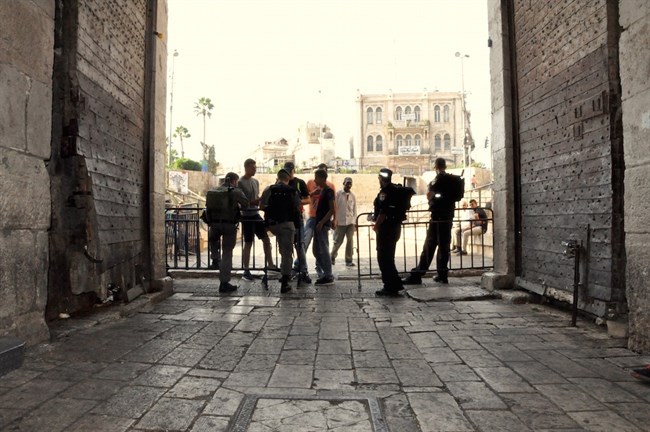 Israeli soldiers check the ID of a Palestinian youth at the entrance to the Old City's Damascus Gate in occupied East Jerusalem on Oct. 4, 2015. (MaanImages/Emily Mulder)
'Nailed down'
Abu Sarah grew up in Jerusalem. His relatives have been beaten up, killed by Israeli forces, and tortured in Israeli prisons. When asked if the situation in his home city has deteriorated, he said: "Oh yeah, absolutely."
Abu Sarah regularly meets with Israelis, but says now he avoids West Jerusalem completely. "There are gangs looking for Palestinians in West Jerusalem. If someone figures out you are a Palestinian… it only takes one time."
Meanwhile, entrances to Palestinian neighborhoods have been sealed, family homes of Palestinian attackers have been demolished, the residency of Palestinians involved in attacks can be revoked, and the police have legal jurisdiction to close or surround areas of the city.
One resident of the Palestinian neighborhood of al-Issawiya, Mohammad Abu al-Hummus, said he can't remember a time when efforts by the Israeli government to isolate and shut down his neighborhood have been worse.
"Al-Issawiya is a ghetto," Abu al-Hummus said, climbing up a hill overlooking the area, pointing with his cane to the geographical reality of the neighborhood.
Al-Issawiya is separated from Palestinian neighborhoods to the north and east sides — technically part of Jerusalem — by a concrete wall, and surrounded by the Jewish settlement of French Hill to its west.
To the south lies Hebrew University, where the road leading out of Issawiya has been closed for more than a year.
The neighborhood's 18,000 residents already felt cut off when roads leading into the village were sealed with cement blocks on Oct. 15 following Netanyahu's thumbs up to police to do so, Abu al-Hummus told Ma'an.
During security checks that accompany entering and exiting the area, men are typically told to lift up their shirts, and contents of the bags of men, women, and children are checked.
At times, bag searches by soldiers entail dumping the contents onto the street, leaving residents to pick up their belongings from the ground, he added.
"This is something new, especially in al-Issawiya. Closing all the entrances, security checks, making people take off their clothes… It was never like this before," Abu al-Hummus said.
He told Ma'an that Israeli forces have been entering al-Issawiya two to three times a day in recent weeks. Just hours before, around 50 soldiers entered the neighborhood with dogs, searching homes and firing tear gas.
"They want us to feel nailed down," Abu al-Hummus said, adding, "But, this is normal. This is just what they do with us."
Demographic threat
Al-Issawiya residents are some of the over 300,000 Palestinians in Jerusalem to come under recent collective punishment by the Israeli government.
The raw edge of this month's blanket treatment of Palestinians would not be so effortlessly carried out without decades of preceding discriminatory policy in Jerusalem.
Palestinians living in Jerusalem at the time of Israel's occupation in 1967 did not become Israeli citizens but gained "residency status," in effect marking a stateless class under Israeli sovereignty.
While they pay taxes and are given a range of services, Palestinians in Jerusalem don't hold passports and cannot vote for the Knesset officials whose decisions impact their daily lives.
The city's landscape, meanwhile, underwent massive demographic and physical alterations with the goal of "Judaizing" Jerusalem. In 1967, East Jerusalem's population was 100 percent Palestinian. Today, they make up 37 percent of the city's population.
The residency status of 14,416 Palestinians Jerusalemites have been revoked since 1967, according to the Association for Civil Rights in Israel.
Staying in Jerusalem effectively makes Palestinians enemies of the state.
Referring to a
recent threat by Netanyahu
to revoke the citizenship of around one-third of Palestinian Jerusalemites, Abu Sarah told Ma'an: "(Netanyahu) sees them as a demographic threat, he sees them as outsiders."
"Yet he expects them to be law-abiding, not to do anything violent," Abu Sarah adds. "When you view us as enemies yet you want this city to be unified and you build a wall through it… This is totally contradictory."
'Everyone is afraid'
When Palestinians are viewed by the state as a threatening enemy, the fear that fuels attacks by Israelis becomes state-sanctioned and promoted.
Abu Sarah agrees that the government is part of the problem. "Telling Jewish citizens that everyone should carry a firearm… to 'shoot first, ask later'… these kinds of things make a difference," he said.
Abu Sarah says that the majority of attacks in the city are happening to Palestinians, but these aren't the attacks that Israeli media reports.
"Police say you can do whatever you want if it's towards a Palestinian," he told Ma'an.
"I was watching the TV last week and a police commander said, 'Our job here is to defend the Jewish residents… to protect all residents.' His initial statement says a lot."
Israeli officials have called on police and soldiers to shoot — rather than arrest — Palestinian attackers, while right-wing Israelis have searched Jerusalem streets for Palestinians, largely uninhibited by Israeli law enforcement.
Fear of being attacked again kept his nephew Mohammad inside for at least a week following the violent assault.
Fear has also changed Abu al-Hummus' daily life, and he knows it has changed that of his Jewish neighbors in the French Hill settlement.
"There are relations between Jews and Palestinians here," Abu Hummus explained. "But because of the security situation, everyone is afraid. The situation became fear. He is afraid of me. I am afraid of him. We say everything's alright, but on the inside, it's not alright."
The racial profiling and fear that has suffocated the city has resulted in the killing of Palestinians who didn't pose a threat at the time of their death.
Meanwhile in Haifa, an Israeli Jew who "appeared Arab" was
stabbed and seriously injured
by a fellow Jew, and in Tel Aviv an
Eritrean asylum seeker was shot
, attacked, and killed in a Beersheba bus station.
Abu Sarah is concerned that the growing fear is misleading. After his attack, his nephew was scared of Jewish Israelis, but Abu Sarah says that operating off of reactionary emotions ignores the root issue.
According to the 2014 Israeli Democracy Index, nearly 50 percent of right-wing Jewish Israelis — the sector of the population in control of government policy-making — said that Jews should be given more rights than non-Jews in Israel.
Israeli MKs meanwhile continue to deny the possibility of a future Palestinian state and actively promote the expansion of Jewish-only settlements on Palestinian land in occupied East Jerusalem and the West Bank.
"My nephew, after he was attacked, said, 'I don't hate Jews, my problem isn't Jews, my problem isn't the religion. My problem is the occupation,'" Abu Sarah told Ma'an.
Short-term measures of conflict management currently being pushed for by the US, Israeli, Palestinian, and Jordanian leadership will not solve the long-term problem for Abu Sarah.
Abu al-Hummus also thinks the current Israeli approach to quelling the conflict is misleading.
"(The Israeli government) says 'this is a Palestinian, an Arab, a killer. But this isn't the issue… we don't think like this. This is not us. We are just Palestinians who want to live in our land."