By Georgi Gotev & Aline Robert | (EurActiv.com) | – –
Commission President Jean-Claude Juncker has teamed up with French President François Hollande in seeking a 'rapprochement' with Russia to fight [the so-called] Islamic State [group], described by both as the biggest threat to the EU.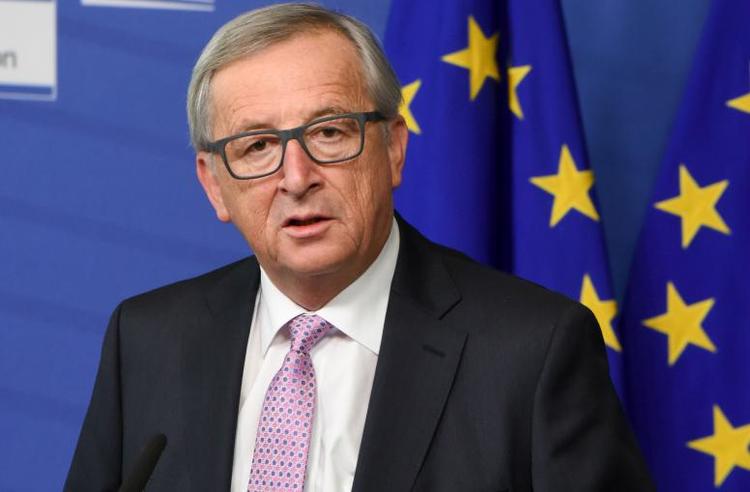 Jean-Claude Juncker [European Commission]
Juncker spoke on Wednesday (18 November) at a public debate in the Bozar concert hall in Brussels, organised by the French weekly l'OBS, and the Belgian dailies De Standaart and Le Soir. Answering questions by the audience, and by the editors of the three periodicals, Juncker made no secret of his personal views.
"Like François Hollande, who is European, I consider Islamic State Europe's enemy number one. Therefore we should use all means to put an end to this galloping barbarity," Juncker said.
A more open-minded policy
Juncker stated that he had often thought of the last days of French President Charles De Gaulle, who wrote in his memoirs "I flew with simple ideas to the complicated East."
"The East has remained complicated, and our ideas have stayed simple. We should abstain from making hasty judgements," the Commission President said, making the case for a more open-minded Western policy in the Syrian conflict, and more broadly in the Middle East, and the Mediterranean.
Asked if he implied that the Syrian President Bashar al-Assad was someone with whom the West should negotiate, he said that "the big nations, the USA, Russia and Europe, should work together when it comes to fight the scourge of Islamic State".
"We should put aside all the problems we may have between us, to be able to concentrate together on this major problem, which if we don't master, would bring Europe to the brink of the abyss," he said.
Asked what future should be given to Assad, Juncker noted that it would be equally wrong to believe that there could be a solution with Assad, and that there could be a solution without Assad.
'A coalition of a new type'
The Commission President said he welcomed Hollande's visit to the US, and Russia, to try to create "a coalition of a new type".
Asked if this meant that President Vladimir Putin had again become an ally of the EU, he said: "Putin is the President of Russia. And there is no security architecture in Europe without an enhanced participation of Russia."
As he spoke, the Russian television released footage in which Putin instructed his generals to work with the French forces in Syria "as allies".
Asked if it was possible that the EU sanctioned Russia on the Ukraine issue and become Russia's ally on the Syrian question, Juncker said that the Union had responded to the Ukraine crisis by sanctions, because there had been no other solution.
"This should not prevent us to cooperate on other issues with Russia," he said.
Juncker was quizzed on the need for a European intelligence service, an idea developed by the previous speaker at this conference, ALDE leader Guy Verhofstadt.
He said that he was personally in favour of such an agency, but added that what impedes it is the member countries' own ideas about statehood and the "lack of a certain concept about Europe".
The former Prime Minister of Luxembourg recalled that when the 9/11 attacks took place in 2001, EU leaders stated, on the occasion of several summits, that their countries should step up the cooperation between their intelligence agencies.
Not without irony, he added: "We are told today that there is a need that intelligence services should cooperate better than before".
Asked if Belgium was the weak link in European security, in view of the many Brussels connections in recent terrorist attacks, he said that Belgium was "one of them".
Asked if Europe was at war, Juncker stressed: "We should not give simple answers to complex questions". "There have been war acts on European territory," he said repeatedly as the question was asked to him again and again.
Asked what he meant by "abyss" when he spoke of the consequences if Europe fails vis-à-vis Islamic State, he said that this would be "the end".
Major support for France
Juncker took a very soft stance when he was asked whether the Commission should give France financial leeway for security. He said that "budget issues was a question which was not even secondary" after last terror attacks.
Hollande has announced he would hire 8.500 civil servants to reinforce police and army and argued that extra funds were needed to fight terror, and that those should not be considered as ordinary expenses, but as extraordinary ones.
The French President's team has tried to argue, since it took power, that military expenses spent by France on fighting against terror, in Mali, the Central African Republic or now Syria, should not be taken into account when the European Commission evaluates France's budget deficit.
Juncker now seems to endorse a very close position, just as French Economic and Financial Affairs Commissioner Pierre Moscovici on the previous day.
The Commission President seemed to support every element of the speech by Hollande on 16 November during a joint session of both houses of parliament in Versailles in the aftermath of the Paris attacks.
The only exception appears to be on the issue of civil liberties. Referring to Hollande's proposal to revise the country's constitution, Juncker said "After 9/11, Washington took unreasonable immediate actions. But we shall oppose strength and reason to terrorism. Public liberties are part of our way of life, and terrorists have no right to change that."
But he did not direct this advice directly to the French President. "Hollande has not exaggerated, he is not threatening public liberties, he is not that kind of person," he said.
EurActiv asked Juncker to comment the statement by Slovak Prime Minister Robert Fico who said that all Muslims in his country would be under surveillance.
Juncker said that those who organised the barbaric acts in Paris are exactly the same people who the refugees are fleeing.
"I refuse this amalgam between the refugees, the unfortunate asylum seekers, and the terrorists. There is nothing in common between the two and one should not engage in simplistic rhetoric, and we should not make out of the religious beliefs once again a ground for division. Religions should be a factor of unity. And I recuse the statements of all those who point the finger at those who don't have the same faith as the majority of Europeans."
Brexit will not happen
Asked about a possible Brexit, that is, the UK leaving the EU following the 2017 referendum, Juncker repeated three times "Brexit will not happen."
Juncker took courageously all the questions but looked tired. At the end, the Chief Editor of Le Soir Béatrice Delvaux asked him if he could withstand physically.
"Yes, I will withstand, because Europe is the big love of my life," Juncker said in what turned out to be a very emotional moment. The audience responded with massive applause.
Via EurActiv.com