Ma'an News Agency | – –
BETHLEHEM (Ma'an) — Dozens of Israelis protested in front of an Israeli government building in Jerusalem on Sunday, demanding Palestinians be barred from using the same roads as Israelis in the occupied West Bank, Hebrew media reported.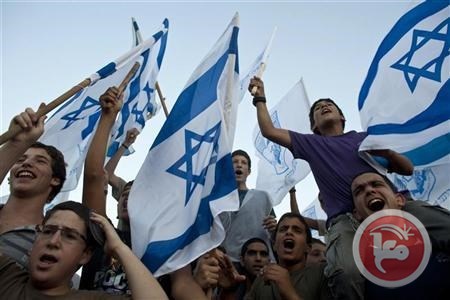 The protesters also called for increased violence against Palestinians in the occupied West Bank.
Many of the protesters were reportedly from the illegal Israeli settlements of Gush Etzion and Kiryat Arba, Hebrew media reported.
Additionally, Israeli students in the illegal Kiryat Arba settlement on Sunday went on a strike in protest of the current security situation.
On Thursday, Israeli officials agreed to increase security measures in the Gush Etzion settlement bloc, located in the occupied West Bank, including increased restrictions on the movement of Palestinians.
The move wasin response to a deadly shooting attack near Gush Etzion on Thursday, where two Israelis were killed, and at least ten other shot and wounded. The Palestinian gunman was also shot dead.
Israeli news site Ynet reported Friday that the measures could include the temporary restriction of movement of Palestinians in the area, the deployment of extra Israeli security forces, and the construction of a "fence" along certain roads.
The discussed measures came after a meeting between the Israeli Minister of Defense Moshe Yaalon, the Israeli army's chief of staff, and the mayor of the Gush Etzion Regional Council, an administrative body for illegal settlements in the area.
The regional council also urged settlers who own firearms to voluntarily accompany children on school buses to assist as first responders after attacks.
Ongoing restrictions
The freedom of movement for Palestinians in the occupied West Bank is already severely restricted by at least 100 permanent military checkpoints, hundreds of physical barriers, and the separation wall.
Since an escalation in violence last month, Israel has closed off entire neighborhoods in occupied East Jerusalem with concrete blocks and flying checkpoints, severely disrupting the daily routine of 300,000 Palestinians.
A researcher for Amnesty International said the restrictions witnessed in the al-Issawiya neighborhood amounted to "collective punishment."
In Hebron, another area where attacks have been concentrated, the entire Old City was declared a closed military zone, with shops forced to close and residents having to register for special permits to cross through the 18 military checkpoints in the city center.
Israeli rights group B'Tselem called the measures in Hebron "draconian" and constituting "collective punishment."
A series of attacks have been carried out by Palestinian individuals on Israeli military and civilians since the beginning of last month, leaving at least 15 Israelis dead.
More than 90 Palestinians have been killed during the same time period, many of whom were shot dead under circumstances in which rights groups said Israeli forces used unnecessary force.