Ma'an News Agency | – –
BETHLEHEM (Ma'an) — In lieu of a growing Israeli focus on Jewish extremism, Israel's Prime Minister on Sunday said that comparing "Arab terror and Jewish terror" was impossible, Israeli media reported.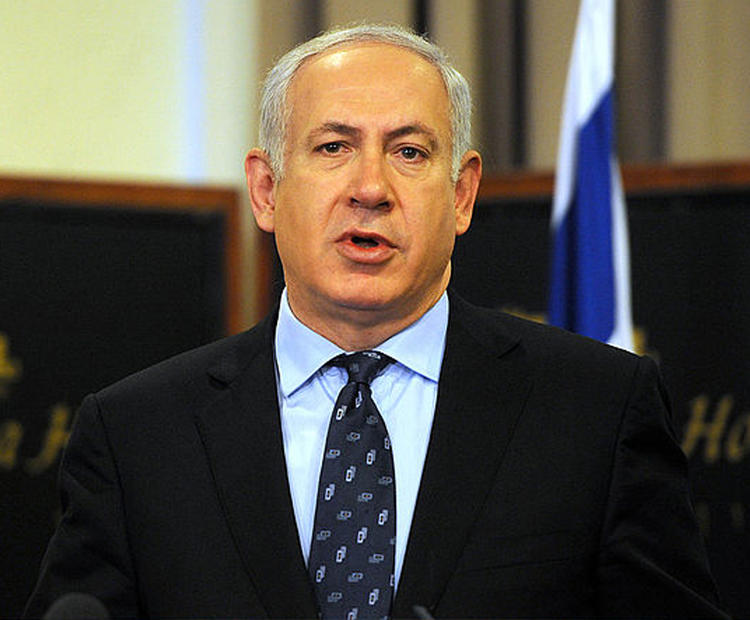 During the weekly cabinet meeting, Benjamin Netanyahu said: "Here we condemn and they [the Palestinians] praise," according to Israeli daily Haaretz.
The PM said that "Jewish terror" was rare, while "Arab terror" frequently took place on a large scale.
Netanyahu stated that while Israeli leadership condemned terror attacks carried out by Jews, the Palestinian Authority "encourages terror and incites."
The statement comes as ongoing investigations into the murder of three members of the Palestinian Dawabsha family by Jewish extremists as well as video footage released from an Israeli wedding party celebrating violence against Palestinians has been at the epicenter of Israeli public discussion.
Focus on the growing influence of Israeli extremist groups also coincides with a wave of violence that has left nearly 140 Palestinians and 20 Israelis dead since Oct. 1.
The majority of Palestinians were killed while carrying out attacks on Israeli military and civilians. Palestinian leadership has yet to condemn the individual attacks but has criticized Israel for its response to the recent violence.
While condemning the attacks, a UN official earlier this month said: "The injustices associated with an occupation which shows no prospect of ending feed into a perspective — particularly among the youth — that they have nothing to lose by sacrificing their lives."
Israeli Defense Minister Moshe Yaalon on Saturday said that recent cases of Jewish extremism had caused politicians to ignore "seemingly less serious" offenses against Palestinians and their property, in effect supporting the perpetrators, according to Haaretz.
Focus on the cases have put other offenses on the back burner, Yaalon said, including the uprooting of Palestinian olive trees and the burning of Palestinian property by Israeli settlers.
The minister said that encouragement from ministers and members of Knesset for settlement expansion as well as verbal attacks on public figures helped to enable incidents like the Dawabsha murder and incitement, Haaretz reported.
Threat of 'Jewish terror'
Israel has received criticism from the international community and rights groups in the past regarding government policies that encourage violence by Israeli settlers against Palestinians.
Israeli police earlier this week opened an investigation into the wedding of two right-wing Israelis after a video showed attendees dancing and singing songs about revenge while waving knives and guns in the air.
At one point during the ceremony, a masked Israeli youth waves a firebomb while another stabs a photo of Ali Dawabsha, an 18-month-old Palestinian burned alive in the arson attack that also left his parents dead.
Prime Minister Netanyahu said at the time that the video showed "the real face of a group that poses danger to Israeli society and security," the daily said.
The suspects in the Dawabsha murder case have yet to be convicted, and Israel's domestic security agency Shin Bet has received push-back from right-wing groups over its conduct in the investigation.
The Shin Bet last week warned that the case revealed the growing threat of Jewish terror organizations against the Israeli state as well as regional security.
Israeli settlers regularly carry out attacks on Palestinians and their property, purportedly in revenge for actions taken by Palestinians or the Israeli government against the illegal settlement enterprise.
The attacks — over 324 of which were carried out in 2014 according to UN documentation — were labelled as "acts of terrorism" by the US government in 2013.