By Joanna Paraszczuk and Golnaz Esfandiari | ( RFE/RL ) | – –
Cartoonists on each side of an Iranian-Saudi diplomatic dispute are highlighting what they perceive as the other's double standards.

The confrontation over Riyadh's execution of a prominent Shi'ite cleric has sent tensions between the regional rivals soaring. Nimr al-Nimr's execution on terrorism charges on January 2 led to angry protests in Iran, including an attack on the Saudi Embassy that prompted Saudi Arabia and several of its allies to cut or downgrade ties with Tehran.

In this sample of cartoons, the predominant Saudi view could be summed up as: "Iran opposes Islamic State while fueling terrorism," and the Iranian view as: "Saudi Arabia claims to fight Islamic State while executing innocents, just like IS."
Here are two offerings from Iranian cartoonist Mana Neyestani:

#Iran Vs. #Saudi from @ManaNeyestani https://t.co/sv58sHKi1H pic.twitter.com/rQGCVEncOJ

— IranWire (@IranWire1) January 4, 2016
https://t.co/knxYFbsfqe #petrolio #arabiasaudita pic.twitter.com/wngCu3ntAm

— kotiomkin (@Kotiomkin) January 6, 2016
This image appears on the website of Iranian Supreme Leader Ayatollah Ali Khamenei: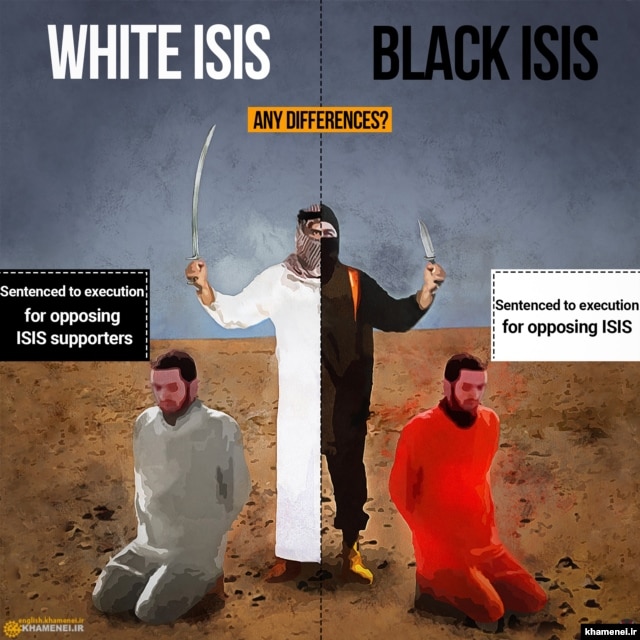 These two, from the Tasnim news agency, play on Nimr's status as a martyr in Iran…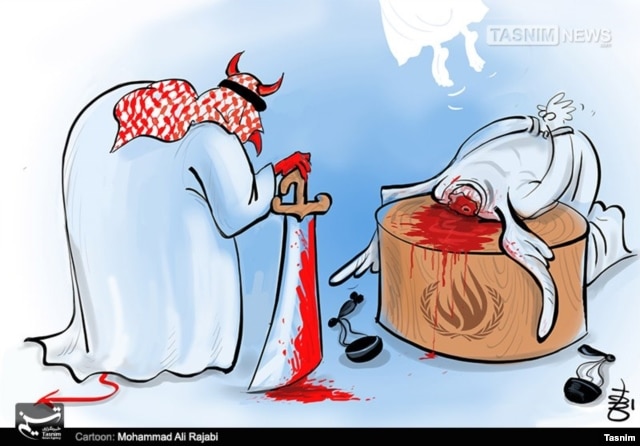 …while Fars used crude stereotypes showing Israel behind Nimr's execution — and harming itself in the process — as has been asserted by some Iranian officials: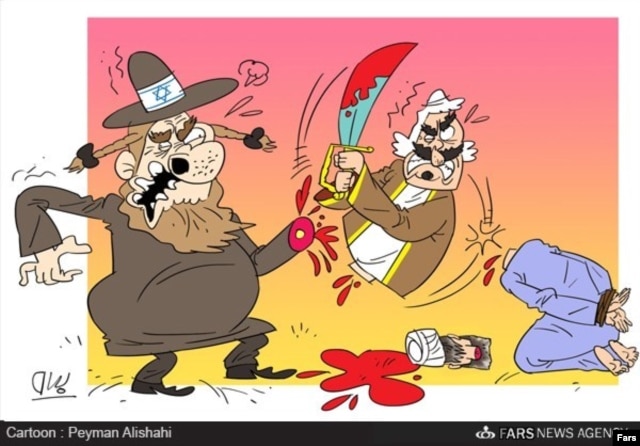 The cover of Iranian reformist weekly Seda shows Saudi King Salman and his reflection — Islamic State leader Abu Bakr al-Baghdadi…

Cover of #Iran reformist weekly Seda on #IranSaudi spat – #KSA pic.twitter.com/SNFdtv1ozX

— Sobhan Hassanvand (@Hassanvand) January 7, 2016

…while this anti-Tehran cartoon puts Baghdadi under the same turban as Khamenei.
كاريكاتير @OKAZ_online Brilliant one!! #iran #isis #uk #usa #saudi pic.twitter.com/26Gpw0ZjLE

— . (@Johani_Ahmad) January 5, 2016
A cartoon in the Saudi daily Okaz shows the restraining hand of Riyadh holding back an Iran bent on wreaking havoc throughout the region: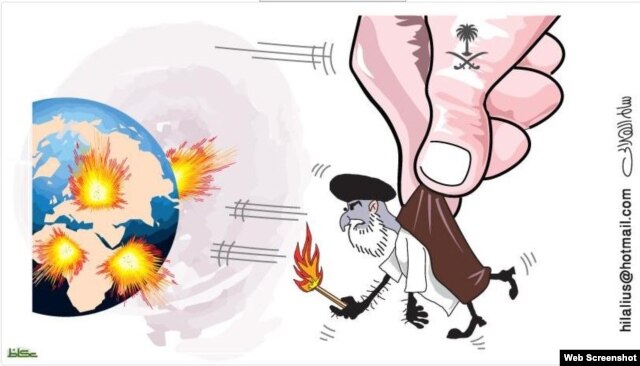 In this one, an Iranian feeds birds in a nest marked "terrorism":
#كاريكاتير حاضنة الإرهاب عبر | @Aimantoon #صباح_العربية #كوريا_الشمالية #زد_رصيدك54 #ناداني_وقال #Iran #ISIS - pic.twitter.com/ZmmKwTwLKL

— كاريكاتير السعودية (@Cartoon_ar) January 6, 2016
Here, the Islamic State group gives first aid to Iran:
This image shows Iran above ground as portrayed in the media, while below lurks Iran "in reality." Its tentacles include "treachery," "subjugation," and "aggression":
#إيران الإعلام.. والواقع! #السعودية_تقطع_علاقتها_بإيران https://t.co/qI1hydfqQh pic.twitter.com/4TUorgddbp

— عبدالله صايل (@abdullahsayel) January 6, 2016
Here, the bottom caption says "Urgent, the coalition is killing civilians":
#كاريكاتير_ايمن @aimantoon #قناة_العالم قناة التدليس #Iran #ايران #terrorism #الارهاب #كاريكاتير pic.twitter.com/bjJqdN8JyD

— إعلاميو الشرقية (@e3lamyu_alsharq) January 6, 2016
Finally, this, via RFE/RL's Radio Farda, reminds the reader that Tehran — while crying foul over Nimr's fate — has jailed hundreds of its own domestic critics: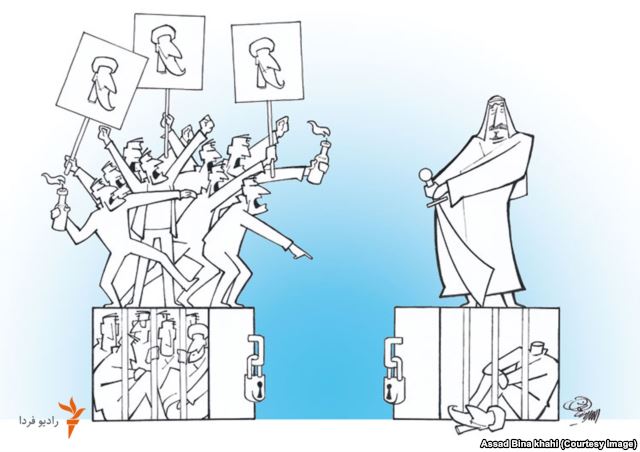 Via RFE/RL
Copyright (c) 2015. RFE/RL, Inc. Reprinted with the permission of Radio Free Europe/Radio Liberty, 1201 Connecticut Ave NW, Ste 400, Washington DC 20036.