By Amira Al Hussaini | ( GlobalVoices.org)
Saudi Arabia announced today it had executed 47 people under "terrorism" charges, including top shia cleric Nimr Al Nimr who was seen as a leader in anti-government protests that took place in the Eastern province of the absolute monarchy at the beginning of the so-called Arab Spring.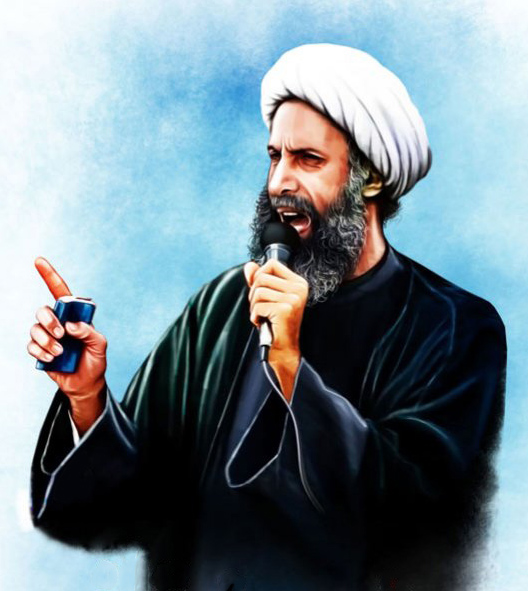 Saudi Arabia today announced it had executed top Shia cleric Shaikh Nemer Al Nemer under "terrorism" charges. Photo credit: Talkhandak.com (CC BY 4.0) via Wikipedia
In a series of tweets, Saudi journalist Ahmed Al Omran quotes the Saudi state news agency saying:
Saudi Arabia executes 47 on terrorism charges, including Shiite cleric Nemer al-Nemer —state news agency

— Ahmed Al Omran (@ahmed) January 2, 2016
In addition to Nimr, who had called for peaceful protests against the Saudi regime, Saudi Arabia executed Al Qaeda members, who belong to an ultra-fanatic branch of Sunni Islam. Al Omran tweets:
Majority of today's executions are related to terrorism attacks carried out by Al-Qaeda inside Saudi Arabia between 2003 and 2006.

— Ahmed Al Omran (@ahmed) January 2, 2016
This "lumping" of executions did not pass undetected on social media. David Kenner explains:
Saudi execution of Nimr al-Nimr along w/ al Qaeda members is straight from Assad's playbook – lumping nonviolent activists with terrorists.

— DavidKenner (@DavidKenner) January 2, 2016
The mass executions were carried out in 12 different areas across Saudi Arabia:
The executions were carried out in 12 different regions around the kingdom, the interior ministry says.

— Ahmed Al Omran (@ahmed) January 2, 2016
And they are backed by the Saudi religious institutions:
Saudi Grand Mufti tells state TV that the death sentences carried out today are "just."

— Ahmed Al Omran (@ahmed) January 2, 2016
Nimr, from the Awamiya area, in the Eastern province of Saudi Arabia caught the Saudi regime's wrath after giving sermons calling for reforms in the conservative kingdom where women are not even allowed to drive cars and for "taking the lead" in anti-government protests in 2011-2012. In July 2012, he was arrested by police after being shot in the leg and in October 2014 sentenced to death for "disobeying the ruler" among other charges.
On Twitter, netizens expressed anger at Nimr's execution.
American-Mauritanian Nasser Weddady notes:
The execution of Nimr Al Nimr is a rare moment where outrage is transcending sectarian divides. #Saudi

— weddady (@weddady) January 2, 2016
He adds to his 37K followers on Twitter saying:
The real loss in the death of Nimr Al Nimr is that he died for the message both Sunni & Shia tyrants feared from the Arab uprisings.

— weddady (@weddady) January 2, 2016
Having a dissenting opinion in Arab lands is health hazard. side effects include prison, torture and death.

— weddady (@weddady) January 2, 2016
Rawya Rageh tells her 83.3K followers Nimr's execution will further escalate tensions in the region:
Execution of prominent #Shia cleric #AlNimr by #Saudi will undoubtedly set tone for regional tension in 2016.

— Rawya Rageh (@RawyaRageh) January 2, 2016
Iran reacted to Nimr's execution by accusing Saudi Arabia of "support[ing] terrorists and takfiri (radical Sunni) extremists, while executing and suppressing critics inside the country."
Nimr's execution is expected to further fuel dissidence in the region with calls for demonstrations going out. Photographs shared on Twitter show armoured vehicles moving into Shia areas in the Eastern province to quell any possible rallies:
Qatif right now. #Nimr pic.twitter.com/NlDiwl0b7T

— Ihsan (@Thawra_city) January 2, 2016
And in nearby restive Bahrain, where anti-government protests have been continuing since February 14, 2011, protesters took the the streets of several villages after the news was announced.
مسيرات حاشدة في مختلف مناطق البحرين استنكارا لإعدام الشهيد #نمر_النمر ، كرامتنا من الله الشهادة #bahrain pic.twitter.com/6qZOnX3Zsi

— ۄعَآظْ آلَسلاطين َ (@DefenseResistan) January 2, 2016
Protests in several areas in Bahrain to condemn the execution of martyr Nimr Al Nimr.
قرى البحرين تنتفض تنديدا بتنفيد حكم الاعدام #نمر_النمر pic.twitter.com/o2llY4hucy

— Alqadami (@alqadami) January 2, 2016
Bahrain's villages rise in anger after the execution of Nimr Al Nimr
Last year (2015), Saudi Arabia executed a total of 158 people, or an average of one person every two days, the highest recorded number since 1995.
Via Globalvoices.org