By Juan Cole | (Informed Comment) | – –
On Friday, the Syrian Arab Army and its Hizbullah and Iranian/ Afghan allies made further progress in taking the area just north of Aleppo. They were apparently mainly fighting al-Qaeda, which had a stronghold in the city of Ratyan. The Russians subjected it to intensive bombing and the SAA and allies ultimately took it. Al-Qaeda (the Nusrah Front) said it had killed 25 of its attackers.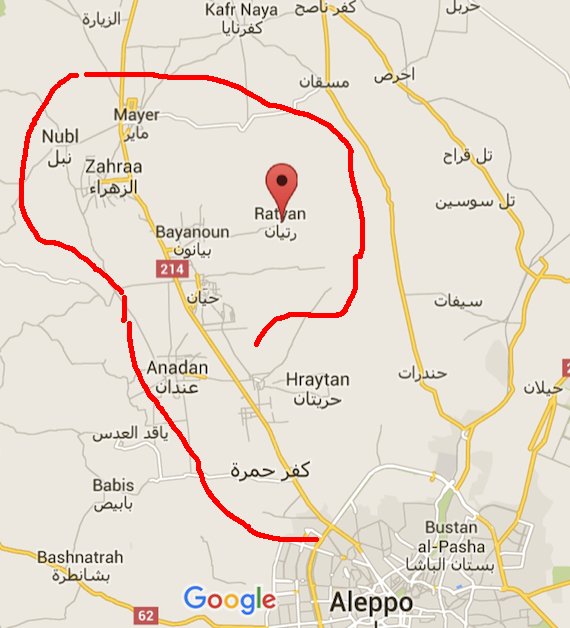 Via Google maps (click)
In New York, as the Syrian peace talks collapsed, the Russian envoy asked out loud why even the opposition was not happy at the defeat and rollback of al-Qaeda.
The answer is, of course, that the Nusra Front has a long history of winning battles against the Baath regime of Bashar al-Assad, and so it is useful to the opposition, even if it is, like, al-Qaeda. Moreover, they don't take its ties to Ayman al-Zawahiri, now the leader of the organization, very seriously.
Unfortunately for us, I think the US is more or less indirectly backing al-Qaeda in Syria (not ISIL but the Nusra Front).
MAP UPDATED !#Aleppo #Nubl #Zahraa #Ratyan#حلب #نبل #الزهراء #رتیان
HD:https://t.co/jaWwe268qk pic.twitter.com/MNEKsTWo5w

— Islamic World News (@A7_Mirza) February 5, 2016
Jenane Moussa, who has reported from inside Syria, pointed out that government troops still hadn't surrounded Aleppo to the east, and made us a map of what she thinks the situation looks like.
There is confusion if #Syria rebels/civilians r encircled in &near #Aleppo. No, but situation difficult. I made map: pic.twitter.com/9QYxnTP9Pv

— Jenan Moussa (@jenanmoussa) February 5, 2016
AFP interviews experts who concur that the Syrian regime is now likely to subject the 360,000 people in eastern Aleppo to a blockade and siege, as it had done successfully to Homs, until it can kill off the guerrillas opposing it.
The Syrian Human Rights observatory maintains that some 20,000 Syrians have fled the villages and small towns just north of Aleppo. Several thousand are stuck on the Syria side at the main Turkish border checkpoint, in cold weather, and they face exposure. Turkey, which already has 2.5 million Syrian refugees, has closed the border to them.
—–
related video:
20,000 Syrian refugees stuck on Turkish border after fleeing Aleppo