Ma'an News Agency | – –
RAMALLAH (Ma'an) — Palestinian Prime Minister Rami Hamdallah on Sunday slammed the recent Israeli decision to ban Palestinian food products from entering Jerusalem as "racist."
"Israel is moving forward with attempts to isolate Jerusalem from its surroundings and erase its identity," Hamdallah said during an opening of a Palestinian food exhibition at an al-Bireh municipality building near Ramallah in the central occupied West Bank.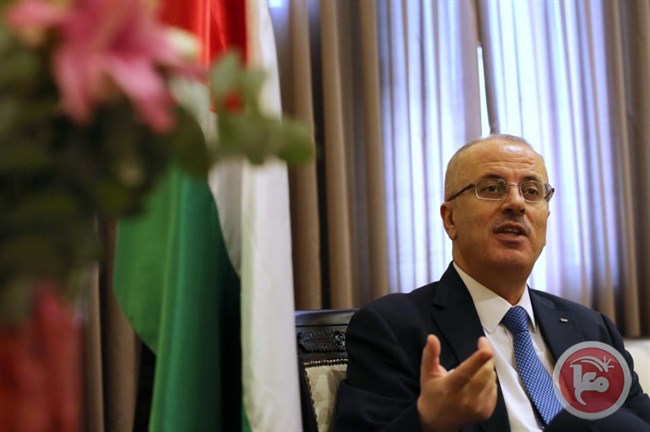 h/t Ma'an Images
Hamdallah described the recent decision by Israeli authorities to deny the trucks of five Palestinian food production companies from entering Israel as an "oppressive political" decision breaching all commercial agreements and protocols regulating Palestinian and Israeli economic relations.
"Through this decision, Israel is attempting to wipe out our national economy and suppress its development," the Palestinian Authority official said.
Hamdallah added that the "racist" decision would have devastating consequences for the Palestinian economy, and urged the international community to put pressure on Israel to adhere to its commercial agreements with the PA.
The PM threatened to respond by banning Israeli products from entering the Palestinian market.
Hamdallah maintained that protecting Palestinian national products is a top priority on his government's agenda. "We have launched a national export strategy, created a council for Palestinian exports, and tried our best to ban the entry of products from Israeli settlements in our markets."
The prime minister pointed to successes in strengthening local production of palms and dates for international export as instrumental in preventing Israeli settlement products from being smuggled into the occupied Palestinian territory.
Fadi Abu Hilweh, the director of marketing for Hamoda company — one of the companies affected by the decision — told Ma'an at a protest against the ban that about 50 percent of the five companies' production goes to Palestinian consumers in occupied East Jerusalem and Palestinian communities in Israel.
If this ban continues, he said, the companies could lose some 1.2 billion shekels ($309.5 million) a year.
According to the Paris Protocols, an agreement signed in 1995 between the PLO and Israel, bilateral trade agreements between Israel and other parties are considered valid in the occupied West Bank, however Israel prevents the import of many Palestinian products to the Israeli market.
A poll by the the Palestinian Center for Policy and Survey Research conducted in June 2015 reported that the overwhelming majority of those interviewed in the West Bank and Gaza Strip — 86 percent — said they supported the campaign to boycott Israeli products.