TeleSur | – –
Obama will spend two and half days in Cuba, where he will meet with U.S.-backed activists and attend a baseball game.
U.S. President Barack Obama, together with First Lady Michelle Obama and their children, walked through the streets of Old Havana Sunday as part of a historic three-day trip to Cuba.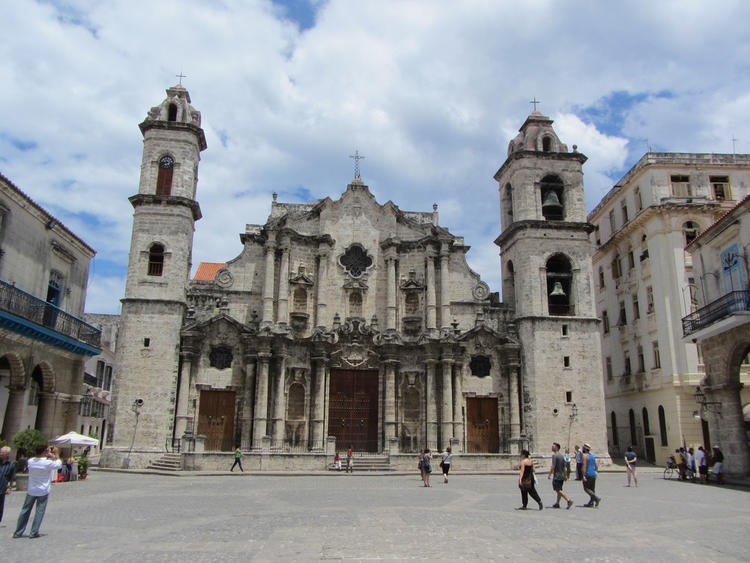 The Obama family, alongside the city's official historian, Eusebio Leal, had a walking tour of the city museum at the Plaza de Armas where they could be seen looking at a painting of former U.S. President Abraham Lincoln, a hero to Fidel and Raul Castro.
The first family then visited the Palacio de los Capitanes Generales and walked through the Plaza de Armas where they looked at statues of historic figures Christopher Columbus and Carlos Manuel de Cespedes.
The Obamas also visited the Havana Cathedral, where they met with Cardinal Ortega, the Latin Rite Archbishop of the Archdiocese of Havana and a Cardinal of the Catholic Church.
The Catholic Church helped facilitate the talks to led to the December 2014 announcement that the two countries would reestablish diplomatic relations.
President Obama landed at Havana's Jose Marti International Airport earlier on Sunday marking the first visit by a sitting president in 88 years.
Obama was met by a Cuban delegation that included Cuban Foreign Minister Bruno Rodriguez.
The pair greeted each other before Obama left the airport grounds in his caravan. The formal welcoming ceremony will take place Monday when Obama meets Cuban President Raul Castro at the presidential palace.
After leaving the airport, the U.S. president then proceeded to meet with staff of the newly reopened U.S. Embassy at a Havana hotel.
In his first comments since arriving to Cuba, U.S. President Barack Obama expressed his gratitude to the U.S. Embassy staff in Havana and shared his optimism at the prospects of a new U.S.-Cuba relationship.
"This is a historic visit and a historic opportunity," said Obama.
Obama's trip comes 15 months after he announced the restoration of diplomatic ties between the United States and Cuba after more than five decades, everything started with a handshake between Obama and his Cuban counterpart Raul Castro in South Africa in 2013.
IN DEPTH: Obama's Historic Trip to Cuba
President Obama will spend two and half days in Cuba accompanied by first lady Michelle Obama, their two daughters Malia and Sasha, and his mother-in-law, Marian Robinson. They will all stay at the U.S. ambassador's residence.
The president is expected to participate in a bilateral meeting with President Raul Castro before attending a state dinner.
On Tuesday Obama is expected to address Cuban people in a speech, and he will also meet with U.S.-backed activists before attending an exhibition baseball game between the Cuban national team and the Tampa Bay Rays.
In an official statement the White House said Obama won't meet with former Cuban President Fidel Castro.
Relations between the U.S. and Cuba have thawed under Obama, who has restored diplomatic relations and lifted several travel and trade restrictions.
However, despite the improving ties between both countries, there are some pending issues that need to be solved in order to fully normalize relations. President Raul Castro has reiterated that the U.S. military base at Guantanamo Bay must be returned to Cuba and that the blockade that has been imposed on Cuba since 1960 needs to be removed.
Via TeleSur