Ma'an News Agency | – –
BETHLEHEM (Ma'an) — A graduate student union at New York University on Friday voted in favor of joining the Boycott, Divestment, and Sanctions movement against Israeli violations of Palestinian human rights.
Two-thirds of the Graduate Student Organizing Committee cast a vote in support of the resolution, which calls on both NYU and its United Automobile Workers union affiliate to divest from all Israeli state institutions — including universities — and corporations "complicit in" Israeli violations.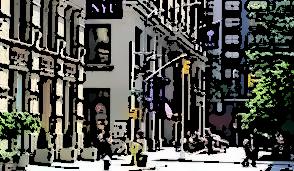 The resolution proposes that NYU join the movement "until Israel complies with international law and ends the military occupation, dismantles the wall, recognizes the rights of Palestinian citizens to full equality, and respects the right of return of Palestinian refugees and exiles."
Over 600 union members voted in the referendum, a reportedly larger-than-average turnout for union votes. The 2,000-strong union represents graduate teaching and research assistants at the university.
Some 57 percent of voters made a voluntary individual pledge to participate in the academic boycott against Israel.
The BDS movement has gained momentum over the past year, aiming to exert political and economic pressure over Israel's occupation of Palestinian territory in a bid to repeat the success of the campaign which ended apartheid in South Africa.
Major actors to join the movement this year include British security giant G4S and French telecom company Orange.
The NYU union's support of BDS comes after US President Barack Obama in February signed into law an anti-BDS trade agreement reiterating that US Congress "opposes politically motivated actions that penalize or otherwise limit commercial relations specifically with Israel," referring directly to BDS activities.
The Israeli leadership has widely condemned the BDS movement as antisemitic or carried out from "hatred of Israel," while proponents of the movement argue divestment measures are necessary in pressuring Israel to end its decades-long military occupation.
Moves inside the US — Israel's longstanding ally and number one provider of military aid — to criminalize BDS have meanwhile been slammed by human rights defenders as a violation of free speech.