By Juan Cole | (Informed Comment) | – –
Boxer Muhammad Ali, born Cassius Marcellus Clay in Louisville, Kentucky, on 17 January 1942, is dead at 74.
Ali was on the US team for the Rome Olympics in 1960, and became the Olympic light-heavyweight champion. He and the team were lionized when he came back. But then in Kentucky he was refused a table at a restaurant.
In 1964 he defeated Sonny Liston. He became famous for his footwork in the ring, for his boasts and his taunting of his opponents, naming the round in which he would defeat them.
By 1964 he was already involved with the Nation of Islam, an African-American black nationalist sect, a folk religion which diverged in important ways from the Sunni Muslim tradition. (It did not believe in life after death, and tended to demonize whites).
He converted and changed his name to Muhammad Ali, rejecting Cassius Clay as his "slave name." He instantly lost his popularity in white America.
Ali declined to take the oath of allegiance or fight the Viet Cong, with whom he said he had no quarrel, and was stripped of his title in 1967.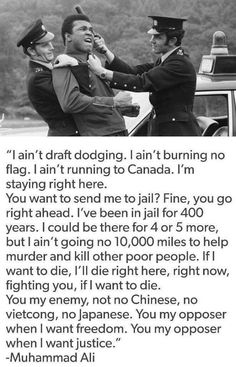 He was sentenced to five years in jail. That sentence was reversed on appeal.
By 1970 the rest of the country had caught up with his aversion to Vietnam, and he was allowed to return to the ring. He regained his title not once but twice. He won 56 fights, achieved a knockout in 37, and lost only 5 fights.
He suffered from Parkinson's by the time of his retirement from the ring, aged 40.
He went on to found a non-profit center in Louisville, Ky., the Muhammad Ali Center, which in the words of the BBC "promotes peace, social responsibility and respect."
In 1975, Mr. Ali became a mainstream Sunni Muslim. In 2005 he adopted the mystical, Sufi branch of Islam, under the influence of Hazrat Inayet Khan. Being a Sufi, Mr. Ali rejected hard line puritan Salafi interpretations of Islam, as well as violent extremism.
Last December he issued a statement that some interpreted as a direct response to Donald Trump's call to ban Muslims. His spokesman, however, denied that the statement was directed at Trump. It obviously was addressing Trump indirectly, though:
"We as Muslims have to stand up to those who use Islam to advance their own personal agenda . . . I am a Muslim and there is nothing Islamic about killing innocent people in Paris, San Bernardino, or anywhere else in the world . . . True Muslims know that the ruthless violence of so called Islamic Jihadists goes against the very tenets of our religion." "I believe that our political leaders should use their position to bring understanding about the religion of Islam and clarify that these misguided murderers have perverted people's views on what Islam really is."
Although a network originally gave it a title suggesting it hit out at Trump, Mr. Ali's staff were firm that that was the wrong interpretation. He was, they said, attacking those Muslims who distort Islam with violent extremism.
Muhammad Ali, far from being pugilistic with the pugnacious Trump, gently called on all US politicians to distinguish between a fringe of misguided extremists and the actual teachings of Islam, which Mr. Ali saw as uniting humankind in love. In the end, the man who was known for boasting about how hard he could hit demonstrated that he wasn't interested in childish polemics. He conceded the problem of extremism, but asked for understanding of the mainstream Muslim tradition of 1.5 billion human beings.
But while he was too much of a gentleman to say it, it is undeniable that Donald Trump has decided to stand for white privilege, and to try to take the country back to 1963 in that regard. In other words, he wants to erase all the things Mr. Ali achieved.
Here's what Mr. Ali said about how he would like to be remembered: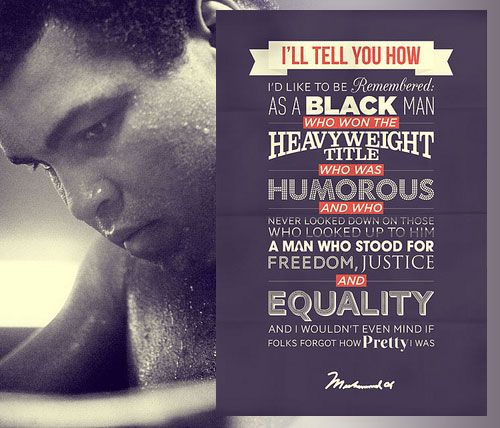 So, as he requested, let's not forget how pretty Muhammad Ali was, and how pretty his soul was.