Ma'an News Agency | – –
BETHLEHEM (Ma'an) — Israeli settlers verbally attacked Palestinian residents of the town of al-Khader in the southern occupied West Bank on Saturday, threatening them with a gun as the Palestinians were working in their land, which is situated in the Bethlehem district between the illegal Israeli settlements of Neve Daniel and El-Azar.
The owner of the private land, Samir Jabir, told Ma'an that he was surveying the land to begin re-cultivating it after it had been left dormant for some years. He said his family has ownership papers for the land that dated back to the Ottoman era.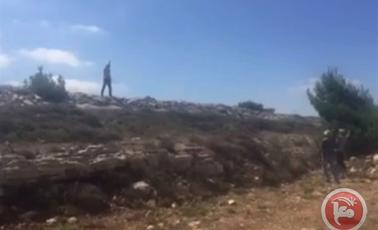 All of a sudden, he said, a group of Israeli settlers from an illegal outpost known as "Fathers' Road" arrived and tried to intimidate Jabir in order to make him leave the land.
"They started to chase me, with one of them wielding a gun," said Jabir. Even after Jabir moved to another tract of land where his cousins were working, the settlers chased after him.
According to Jabir and his cousins, the settler who was holding a gun continued to threaten the men, and shouted anti-Muslim slurs at them.
When they refused the settlers' demands to leave, one of the settlers pointed his pistol at Jabir and his two cousins, to which Jabir's cousin responded saying, "you can shoot me but we will not move out."
Footage recorded by Jabir that he later uploaded to YouTube then shows the settler shooting live bullets into the air above where Jabir's cousins were standing.
According to Jabir, when he called the Israeli police to ask for assistance, the police officer initially responded by asking if there were any "Jewish individuals among the group being attacked."
After insisting that he still required assistance and protection, an Israeli army vehicle arrived within 15 minutes, and later an Israeli police vehicle arrived to the scene.
Jabir informed the Israeli police about the incident, showed them the videos he captured on his phone, were escorted by the officers to an Israeli police station in Hebron, where they filed a formal complaint. He said police officers found bullet casings on the scene that backed his claims.
An Israeli army spokesperson told Ma'an she was looking into reports of the incident. According to Jabir, Israeli police told him they would summon suspected settlers for questioning.
Israeli settlers have carried out at least 60 attacks on Palestinians and their property in occupied East Jerusalem and the West Bank since the start of 2016, and a total of 221 in 2015, according to the UN Office for the Coordination of Humanitarian Affairs.
However, the perpetrators of violence against Palestinian civilians and their property are rarely punished, with Israeli police closing most investigations without an indictment.
According to the Israeli human rights group Yesh Din, only 1.9 percent of complaints submitted by Palestinians against Israeli civilian attacks result in a conviction.
The United Nations reported on Thursday that nine attacks by Israeli settlers resulting in Palestinian injuries or property damage/losses occurred between July 12 and 18, "representing the highest number of settler related incident in a single week since the beginning of 2016."